ABOUT OUR RHIPSALIS OASIS
Hello, I'm Reece the Rhipsalis oasis. People like to call me the mistletoe cactus. I'm sure it's pretty obvious where my nickname originated from. You can't deny I have got quite the interesting look, don't I? My quirky foliage has endless styling opportunities. Why not place me in a hanging basket in your hallway and let my eye-catching appearance do all the hard work in making your home a little greener.
My latin name is the Rhipsalis oasis and I'm usually found in South America. I'm one of 35 species and we grow as epiphytes meaning we grow on other trees, branches and rock crevices. We absorb the nutrients we need from the air. I'm low maintenance, easy care and the ideal friend for houseplant beginners and enthusiasts alike. I can grow in semi-shady conditions and don't need a lot of bright light to thrive. It's a good idea to check my soil weekly and only water me once my soil has dried out a little.
I'm cool as a cucumber and as carefree as a cactus - the latter I do mean in the literal sense. Take me home and I'm sure my funky foliage will add something special to your ever growing jungle.
Height (including nursery pot) 25cm; pot diameter 17cm.
The Rhipsalis oasis is one of the few cacti species that is found growing outside of the western hemisphere.
Reece is a low maintenance stunner that is sure to wow your guests and start many conversations on how you acquired such a beauty.

QUICK RHIPSALIS OASIS PLANT CARE

As a cactus Reece is very low maintenance. Unlike most cacti, Reece can be placed in semi-shade and will need a little humidity boost to keep his foliage crisp free.

I can tolerate medium shade and should be kept out of any direct sunlight. An east or west-facing window is ideal for me.

I don't mind my soil drying out a little but I'm not a fan of very dry or wet soil. Check the first inch or two of my soil weekly and only water if it is dry to touch.

I prefer high levels of humidity. Find out how you can increase the humidity in my environment here.

Use the fortifying fertiliser once every 6-8 weeks in the months of March-September. Do not fertilise me in the winter months.
 A well lit room with plenty of natural light. A hallway or entrance hall would look spectacular.
THINGS WE ALWAYS GET ASKED

How do you look after Rhipsalis?
Reece is easy to look after and will reward you with plenty of new growth in the spring and summer months. Place Reece in a well lit room with plenty of humidity and warmth. The perfect indoor temperature for Reece is between 20ºC-24ºC. Check Reece's soil weekly and this will indicate when he should be watered. In the summer months Reece might need to be watered once or twice a week. During the winter months his watering schedule can be reduced as he will need less water during his dormancy period.
How often should I water my Rhipsalis?
This will very much depend on whether it is Winter or Summer. The other main factor is how much light Reece is receiving. Reece will need to be watered more often in a bright room in the summertime. Check the first two inches of soil weekly with your finger or moisture metre and only water if the soil feels dry.
What kind of soil do Rhipsalis like?

Reece should be repotted with 70% coconut coir and then the remaining 30% should be drainage materials like perlite, orchid bark and coarse sand.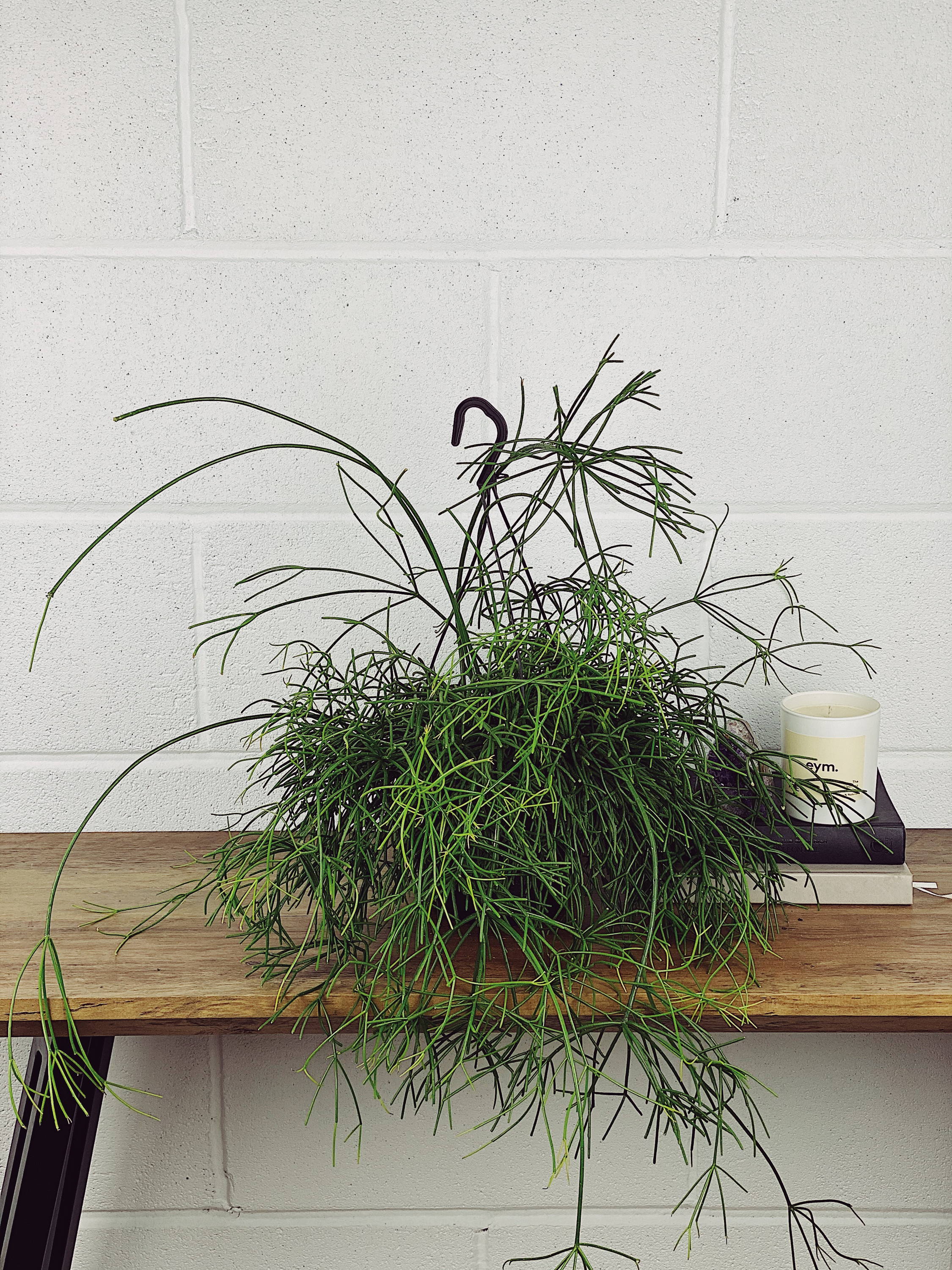 We use a next day delivery service with one of our trusted couriers. Please allow a little bit of packing time. During COVID and busy times this can be up to 5 days.
Your personal information and data is secure with us. This is our website platform providers bread and butter. Uncompromised safety & security.
If you have received a damaged plant or within 30 days you have any trouble after following our care guidance we will offer you a replacement.
WE PLANT 10 TREES FOR EVERY ORDER
Our goal is to plant 1 million trees by 2025 to help save our environment.