Hello, I'm Mr Ming I go by the name Polyscias ming and the Aralia Ming. My full and bushy foliage is just what you'd expect to see in a glamorous Japanese Garden. In the UK you should probably keep me as a houseplant. I'm not a fan of the cold weather. If you're wondering where I'd look my best, a bright conservatory or sunny landing is just the place to put me. I love bright light but keep me in a place where I won't be burnt from direct sunlight.
Natively, I'm found in the pacific islands where I enjoy bright light, hot temperatures and plenty of humidity. Altogether there's over 80 known species in the pacific islands alone. The ideal spot for me is on a bright landing with plenty of natural light with temperatures between 20ºC-28ºC. Keep me away from hot radiators because this will dry out my foliage very quickly and turn me very brown indeed. Keeping the humidity levels high is very important to help ensure I thrive.
My bushy and full foliage is exactly what's needed to really transport your landing or hallway into a full greenery space.
Big Height (including nursery pot) 80-90cm; pot diameter 21cm.
On average the Polyscias ming is a slow-growing plant but if given enough warmth and bright light, it can grow up to 2 metres tall.
Polyscias ming is tall and slender with a full bushy coat that is ideal for a bright landing.

QUICK POLYSCIAS MING PLANT CARE

This tropical beauty loves bright light, warm temperatures and plenty of humidity.

I do prefer a brighter light. It's good to place me in a room with morning or evening light so my foliage doesn't burn.

Check my soil twice a week and only water when the first two inches are dry.


You can fertilise me every 4 weeks in the growing season with the fortifying fertiliser. I don't need fertiliser in the winter.

FAST FACTS ABOUT POLYSCIAS MING

The corner of a bright landing or hallway.
THINGS WE ALWAYS GET ASKED

How do you care for Polyscias ming?
The Polyscias ming should be placed in a bright room filled with natural light. The ideal temperature is between 20ºC-25ºC. Avoid placing the Polyscias ming in direct sunlight or by radiators as both can dry out the foliage. Keep the environment around the plant as humid as possible by grouping your other humidity-loving plants in the same area or using a humidifier in the same room. The foliage may start to droop when the plant is ready for a drink. Every 5-7 days, check the first two inches of soil and only water when the soil is dry.
Does the Polyscias ming like humidity?
Yes, the Polyscias ming is a humidity-loving plant. Keep the humidity high to avoid the foliage turning brown or crispy. Place plants that release humidity into the air like Bonnie the spider plant and Hamish the fern which will help the overall moisture of the area. For more information on increasing humidity read our blog.
How often should you water a Polyscias ming?

The Polyscias ming will need regular watering and should never be left to dry out. Check out our blog on how to tell when to water your houseplants for more information. Increase your watering schedule in the summer months and decrease in the cooler months.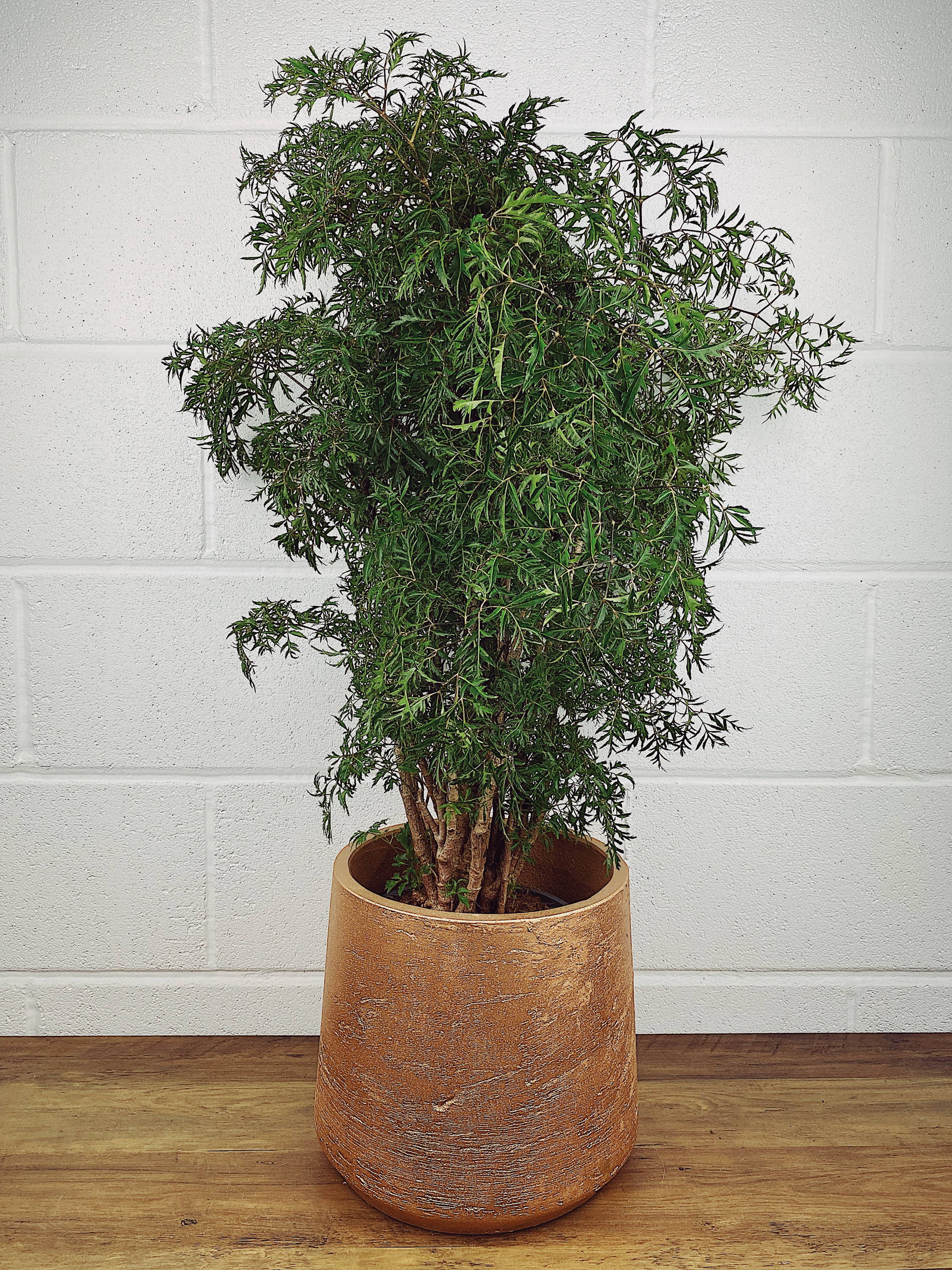 ​The Polyscias ming has the ideal look for a corner of a room or a bright landing. The full, bushy foliage is exactly what's needed for a home desperately in need of a greenery makeover and the Polyscias ming certainly has enough greenery and life to transform a room.
Find the Polyscias ming a friend and help increase the humidity in your home with Maya the parlour palm and Lily the peace lily. Use our energising crystal and detoxify crystal for rejuvenating vibes in your sunny home..
We use a next day delivery service with one of our trusted couriers. Please allow a little bit of packing time. During COVID and busy times this can be up to 5 days.
Your personal information and data is secure with us. This is our website platform providers bread and butter. Uncompromised safety & security.
If you have received a damaged plant or within 30 days you have any trouble after following our care guidance we will offer you a replacement.
WE PLANT 10 TREES FOR EVERY ORDER
Our goal is to plant 1 million trees by 2025 to help save our environment.