Hey there, I'm an Areca palm! If you're feeling formal, you can call me Dypsis lutescens, but I think we're better mates than that. I'm pretty damn popular around here because not only do I bring the tropics into your house.
I'm native to Madagascar, where I enjoy the cool and shady environment found underneath the canopies of large trees. In your home, my tall, slender leaves and feathery appearance makes me perfect for placing in a corner of a room or somewhere without much space as I'll grow upwards.
If you're a pet owner, you can also trust me completely: I'm non-toxic if ingested (by you or your plant!) and, according to NASA no less, will purify the air in your home. Did I tell you I'm so easy to care for you'll never hear a peep from me? New plant parents, I'm the guy you've been searching for!
Big height (including nursery pot) 85-95cm; pot diameter 17cm.
The Areca palm is one of the easiest and most popular plants to propagate. This can be achieved by dividing the roots up when repotting your Areca palm and bam: you'll have many more little palms!
This tropical plant is the ideal addition to a sunny living room or home office in need of some greenery.

QUICK ARECA PALM PLANT CARE

The Areca palm is an easy-care plant that thrives in a well-lit room, with regularly watering and high humidity.

I do like a sunny room but can tolerate lower levels of light.

I will protest against any soggy or wet soil. Let the first few centimetres of my soil dry out before you water me again. Never leave me to sit in any excess water, as I'm quite sensitive to root rot.

I love humidity and will benefit from being placed near a humidifier or in a humid room.

 I'm a moderate grower and you can fertilise me every four to six weeks in the growing season.
You can place the Areca Palm in a sunny living room where it'll bring a touch of tropical Madagascar.
THINGS WE ALWAYS GET ASKED

How do you care for an Areca palm plant?
The Areca palm is a rewarding plant. It prefers a well-lit room, so place your palm about a metre away from any window to avoid burning its delicate foliage. If possible, use filtered or rain water as the harsh chemicals found in tap water can cause browning to the foliage.
How often should I water my Areca palm?
Allow the first few centimetres of soil to dry before you water again. It's always best to keep its soil on the drier side rather than overly wet or soggy. In the summer, a weekly water will be enough for the Areca palm and this can be reduced to once every few weeks in the winter months.
Is the Dypsis lutescens safe for dogs and other animals?
Yes, this type of indoor palm is a non-toxic plant and very safe to place in a home with young children and hungry pets!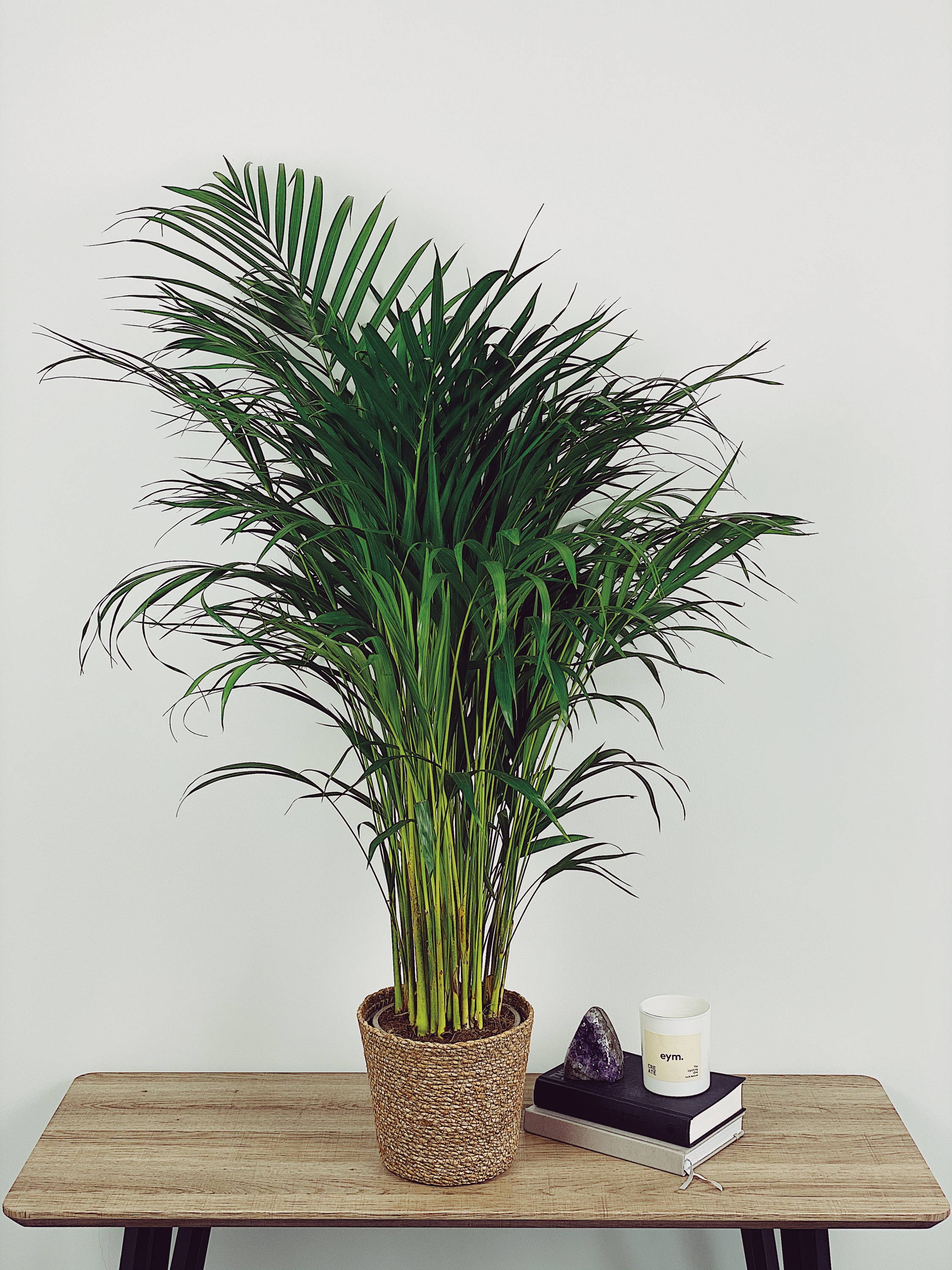 The Areca Palm is the ideal size to make a statement thanks to its luscious tropical foliage. Place it in a corner of your living room or your conservatory and boost your mood with the tropical ambiance it brings.
Match this tropical houseplant with the compassion crystal or heart crystal for a calming and spiritual presence in your home.
We use a next day delivery service with one of our trusted couriers. Please allow a little bit of packing time. During COVID and busy times this can be up to 5 days.
Your personal information and data is secure with us. This is our website platform providers bread and butter. Uncompromised safety & security.
If you have received a damaged plant or within 30 days you have any trouble after following our care guidance we will offer you a replacement.
WE PLANT 10 TREES FOR EVERY ORDER
Our goal is to plant 1 million trees by 2025 to help save our environment.