ABOUT OUR ANTHURIUM SIERRA ORANGE
Hey there, I'm Georgia the Anthurium. You can call me the flamingo flower, tail flower or the laceleaf if you'd like. I guess I've caught you staring at my jaw-droppingly beautiful flowers. I have that tropical look that every UK home needs this summer. My vibrant petals are here to make a statement and become the centre of attention in your bright living room or dining room. I'm a tropical plant and will love a sunny spot that offers plenty of humidity. You might wish to group me with your other humidity loving plants like Lily and Bonsai for a humidity boost.
You can find me enjoying the warm and sunny weather in the Caribbean and Central America where I'm most commonly found. My colours are right at home within the Caribbean tropics and I hope I become your little tropical getaway without having to leave the house. You might be shocked to know that they're over 1000 species in my family and we all boast carnival-like shades of pink, red and white. Imagine having one of every colour; now that could be a very colourful home indeed.
For all tropical plant-lovers I'm a must-have. My bright foliage will be impossible to go unmissed. My beauty is just gearing up for growth season and I'll carry on blooming until later October.
Small Height (including nursery pot) 45-55cm; pot diameter 14cm.(Fits a 15-17cm Pot)
Blooming flowers happen more frequently if the plant is placed in a bright spot. Anthrium's blooms usually last from six-eight weeks. Expect to see less blooming in the winter months.
Georgia has spectacular bright foliage that is the perfect statement plant to be enjoyed over the summer months.

QUICK ANTHURIUM PLANT CARE

Georgia will grow quickly in a bright room with plenty of humidity. Keeping her in a warm room is essential to her survival.

I prefer a room with plenty of natural light. Protect my lovely foliage by placing me out of direct sunlight.

Water me every time the first inch of my soil is dry. This could be twice a week in the summer months and less frequently in the winter months.

I love humidity and thrive in a humid environment. I can be placed in a bathroom or near a humidifier. Find out how you can increase humidity here.

Fertilise me with a diluted fertiliser once a month from March-September. Do not fertilise me in the winter months.
A living room or dining room where there's plenty of indirect sunlight.
THINGS WE ALWAYS GET ASKED

How do you take care of an Anthurium?
Georgia should be placed in a room with plenty of indirect sunlight. If you have large windows, keep Georgia at least a metre away from any harsh sunlight that could burn her foliage. She loves humidity and can be placed in a bathroom, humid room or next to a humidifier. You can also style Georgia with Lily and Hamish for a boost of humidity. The perfect temperature for Georgia is between 18-32°C. Avoid letting the room dip lower than 18ºC at night as Georgia is not a cold tolerant plant. Check her soil once a week in the winter and twice a week in the summer. Georgia only needs watering when the first inch of soil is dry. The more light Georgia gets the more often she will need watering.
Do Anthuriums need sunlight?
All plants need some natural light to survive and Georgia prefers a bright and sunny room. Place her a metre away from a south or east facing window. Avoid letting her leaves dry out from bright sunlight by keeping humidity levels high.
Is an Anthurium poisonous to pets?
Yes, the Anthurium is toxic if ingested and should be placed on a high table or shelf away from any young children or pets.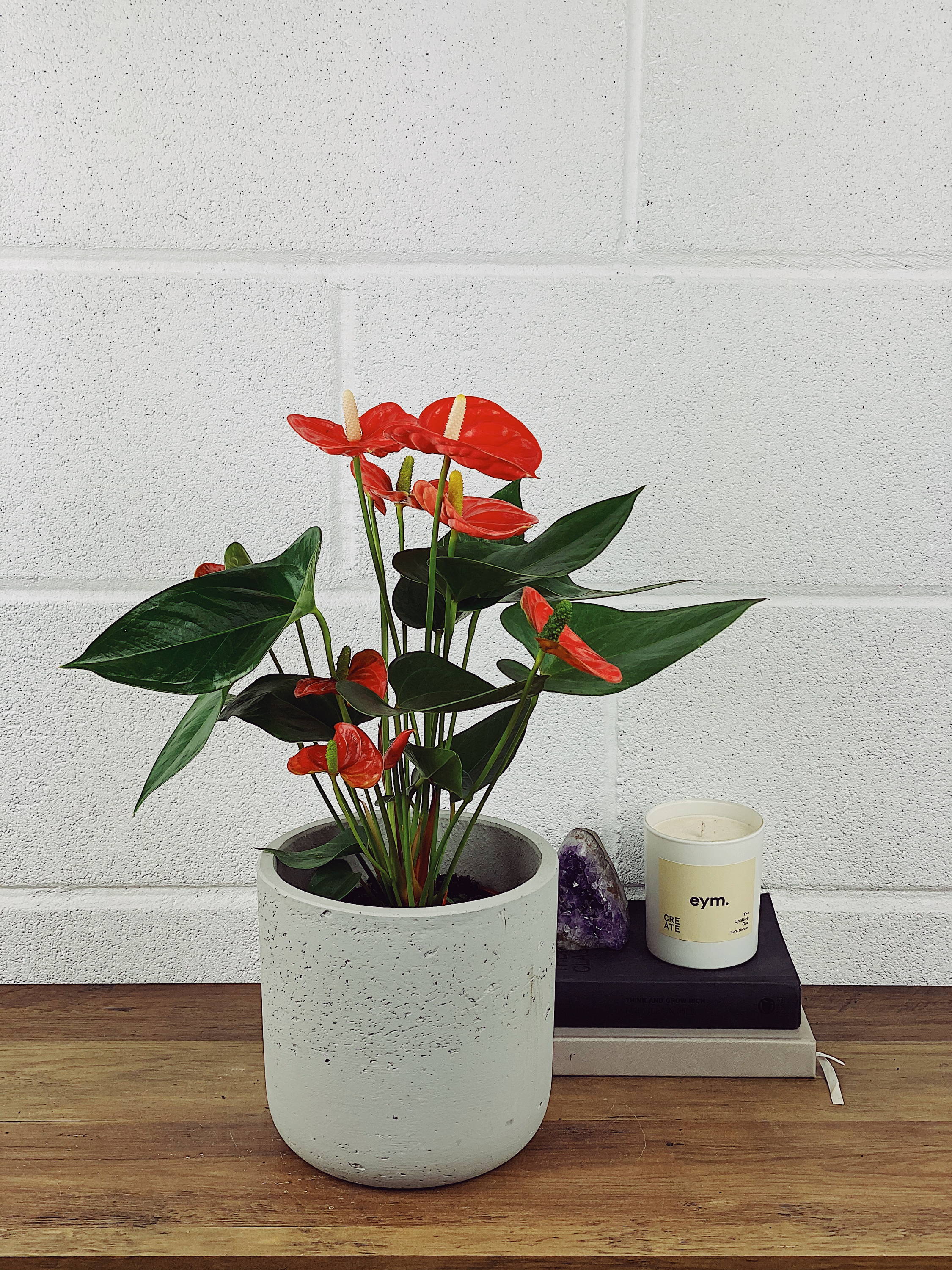 Use Georgia's bright leaves to add a touch of colour to a living room or as a centerpiece for your dining room table. She will make a stunning addition to any bathroom as the high levels of humidity will keep her leaves looking fresh. Style Georgia with Lily the peace lily and Paddy the money tree for a little extra luck.
Pair Georgia with the self care crystal and the joyful candle for a living space full of good energy and relaxing vibes.
We use a next day delivery service with one of our trusted couriers. Please allow a little bit of packing time. During COVID and busy times this can be up to 5 days.
Your personal information and data is secure with us. This is our website platform providers bread and butter. Uncompromised safety & security.
If you have received a damaged plant or within 15 days you have any trouble after following our care guidance we will offer you a replacement.
WE PLANT 5 TREES FOR EVERY ORDER
Our goal is to plant 1 million trees by 2025 to help save our environment.