ABOUT OUR FICUS ELASTICA 'MELANY'
Hi I'm Melany. I'm the Ficus Elastica but really I go by many other names like the rubber plant, rubber fig, Indian rubber tree and the rubber bush. The reason I'm known as the rubber plant is due to the milky sap that can be extracted from my leaves to make rubber. This practice is very much outdated now but I would advise keeping me away from any young pets or children as my sap can be quite harmful to little people if ingested. My rich and glossy leaves are really something to admire aren't they? If you're looking for a variegated rubber plant then you can check out my brother Eraser who is almost as good looking as me. 
In the wild I can get to a maximum height of 30 metres. I'm commonly found in the Southeast Asian rainforests with the other 1,100 species of rubber plant. I much prefer a bright room and should be placed in a west or south facing room. Keep me a metre away from any big windows to make sure my striking foliage doesn't burn. Although I enjoy a well lit room, I can go a few weeks at a time without water. In the winter months you can reduce my watering schedule and only water when my foliage starts to droop. This could be as little as once every 3-4 weeks.
If you're looking for a plant with dark rich foliage I'm the girl for you. I'd be happy in the corner or a living room or bedroom to add a touch of class and elegance.
Big Height (including nursery pot) 80-90cm; pot diameter 21cm.
In 1961 Frank Sinatra sang his own rendition of 'High Hopes' a song about a rubber tree plant. The song made it into the billboard top 100 in 1961.
Melany is here to help you start your plant journey or add to your ever-growing plant jungle with style and beauty.

QUICK FICUS ELASTICA PLANT CARE

The rubber plant has been popular since the 70s due to it's succulent-like leaves that can hold water for many weeks at a time.

Place me in a sunny room but keep my lovely foliage away from hot direct sunlight.

Keep my soil on the drier side. I will droop my foliage a little if I'm ready for a drink.

I do prefer a humid room but it's not essential to my survival. Find out how you can increase humidity here.

I'll push out a lot of growth in the summer months. Use a diluted fertiliser once every 1-2 months to help promote new growth. Do not fertilise me in the winter months.
The corner of a bright entrance hall or living room.
THINGS WE ALWAYS GET ASKED

How do you care for a Ficus Elastica?
The Ficus elastica is a good plant for beginners. Melany prefers a well lit room near a west or south facing window. Keep her at least a metre away from any window that gets a lot of direct sunlight as this will scorch her leaves particularly in the summer months. The ideal temperature is between 18º-24ºC. Although Melany is not cold sensitive she is from a tropical climate and is more likely to thrive in a warm room. Keep Melany's soil on the drier side. You may notice her lower leaves start to drop or the leave's edges start to brown if she has had too much water. It's very easy to over water a rubber plant. To avoid this leave some time in between each watering to allow the soil to dry properly.
Does the Ficus Elastica need sunlight?

All plants need some natural light to survive. Melany will thrive in a well lit room with large windows. Place her in a south or west facing room with plenty of natural light. She would also be well suited to a bright conservatory provided she only receives morning or evening sunlight.
How often should I water Ficus Elastica?
In the summer months when the ficus elastica is actively growing she will need more frequent watering. Check the first two inches of the soil and only water if the soil is dry. This could be once every 1-2 weeks. Cut back on your watering schedule in the winter months to once every 3-4 weeks or whenever the foliage starts to droop a little.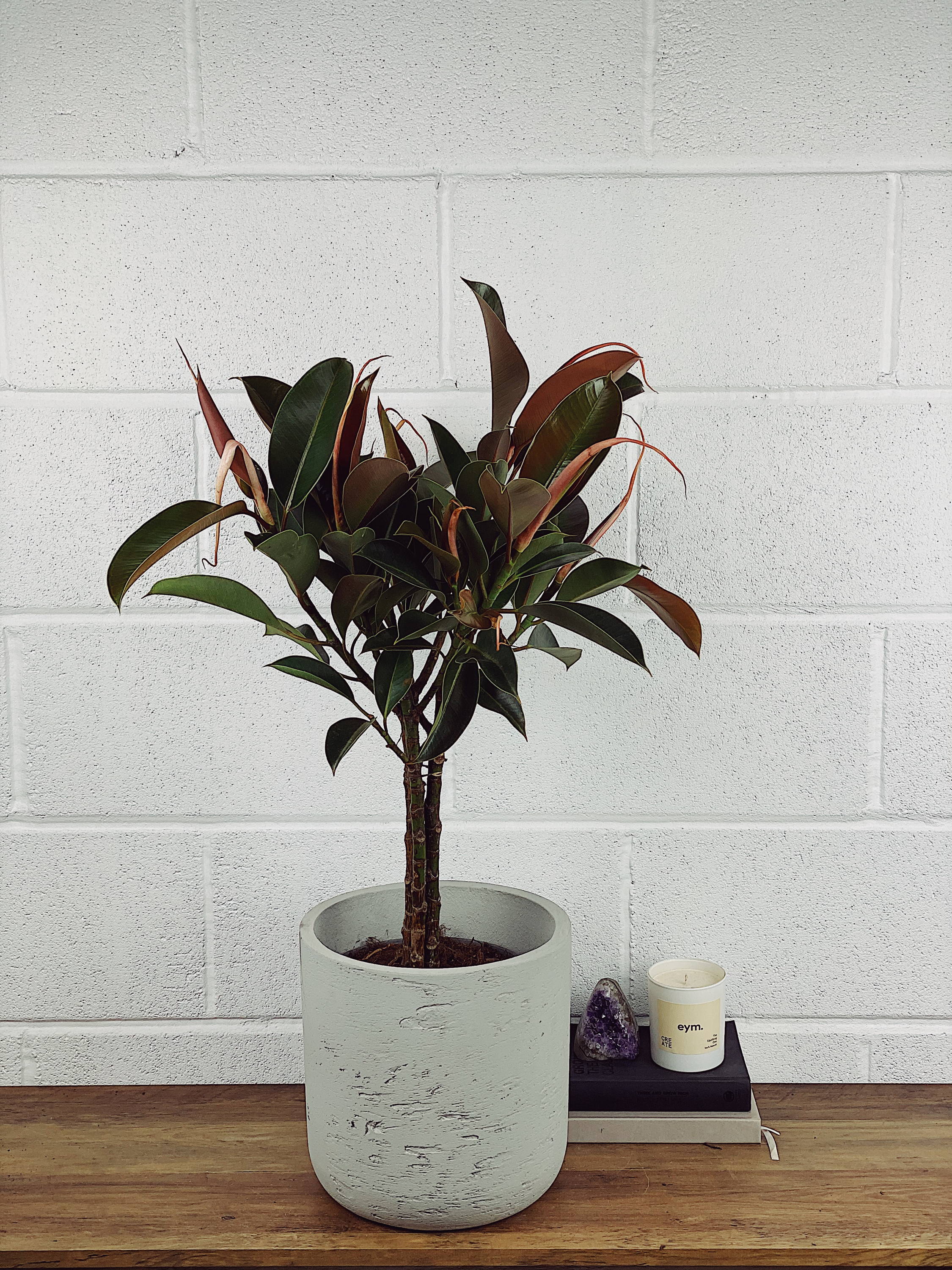 We use a next day delivery service with one of our trusted couriers. Please allow a little bit of packing time. During COVID and busy times this can be up to 5 days.
Your personal information and data is secure with us. This is our website platform providers bread and butter. Uncompromised safety & security.
If you have received a damaged plant or within 15 days you have any trouble after following our care guidance we will offer you a replacement.
WE PLANT 5 TREES FOR EVERY ORDER
Our goal is to plant 1 million trees by 2025 to help save our environment.