ABOUT OUR CALATHEA ZEBRINA
Hi there, I'm Marty the Calathea Zebrina. You can call me the zebra plant, prayer plant or Marty Mcfly if you feel like it. My distinctive bright stripes sure make me a rather popular, ornamental houseplant. If my groovy stripes weren't enough to convince you then I'll also help purify the air in your home. Plus, I'm not toxic if ingested so I'm perfectly safe to have around curious pets and excitable toddlers.
I'm usually found in southern Brazil where I enjoy the shade and humidity of the rainforest. In all, there's over 500 species of known prayer plants all with different colours, shapes and patterns. We are a very good looking bunch. I like temperatures of at least 18°C and prefer to be kept away from big windows. Keep me away from direct sunlight and if you are going to open any doors or windows make sure I'm placed away from any cold drafts - if I get too cold then I'll start curling my leaves.
My bold leaves are exactly what you need to get your indoor jungle started. My magnificent foliage will be adored by visiting friends and family.
Big Height (including nursery pot) 70cm; pot diameter 19cm.
Calatheas aren't just beautiful to look at but they also symbolise new beginnings. This comes from the action of the leaf of a Calathea as it moves throughout the day to follow the light. Think of the phrase 'turn over a new leaf'. Marty is a great gift for any new home or job to celebrate a new beginning.
Marty is a striking, ornamental plant that will turn your home into your own personal indoor jungle.

QUICK CALATHEA ZEBRINA PLANT CARE

Marty is a bold and eye-catching plant that needs high humidity, partial shade and filtered water.

I'm adaptable to all types of light but prefer to be away from any bright/direct light.

I don't like dry soil so in the summer, you might need to water me twice a week to keep my soil moist. Water me less frequently in the winter months.

I love the moisture on my leaves so place me nearby a humidifier or in a steamy bathroom.

Use a diluted fertiliser once a month from March-September.
The best place for Marty is in a bathroom for a humidity boost.
THINGS WE ALWAYS GET ASKED

How do you take care of a Calathea Zebrina?
The Calathea species can be tricky to care for in the beginning but once a few care tips have been mastered they are very rewarding plants. Place Marty in a room with medium light where he is away from any direct sunlight. Place Sasha or Roger by a window so Marty can enjoy their shade.The ideal temperature for Marty is between 18-25°C. If possible avoid letting the temperature dip lower than 15°C as Marty will begin to curl his leaves from cold stress. Water Marty once or twice a week or whenever the first inch of soil is dry. He's a fast grower in the summer months and will need regular watering. Avoid letting his soil dry out. This will result in brown leaves or spots.
How often do you water a Calathea Zebrina?

The best way to tell if Marty is ready for water is by making sure the first inch of soil is dry. In the summer months water him once or twice a week and in the winter months water less frequently.
Do Calatheas like direct sunlight?

The Calathea species prefer medium light. They are the perfect houseplant species for UK homes where the sunlight is limited. Any direct sunlight will burn his beautiful foliage.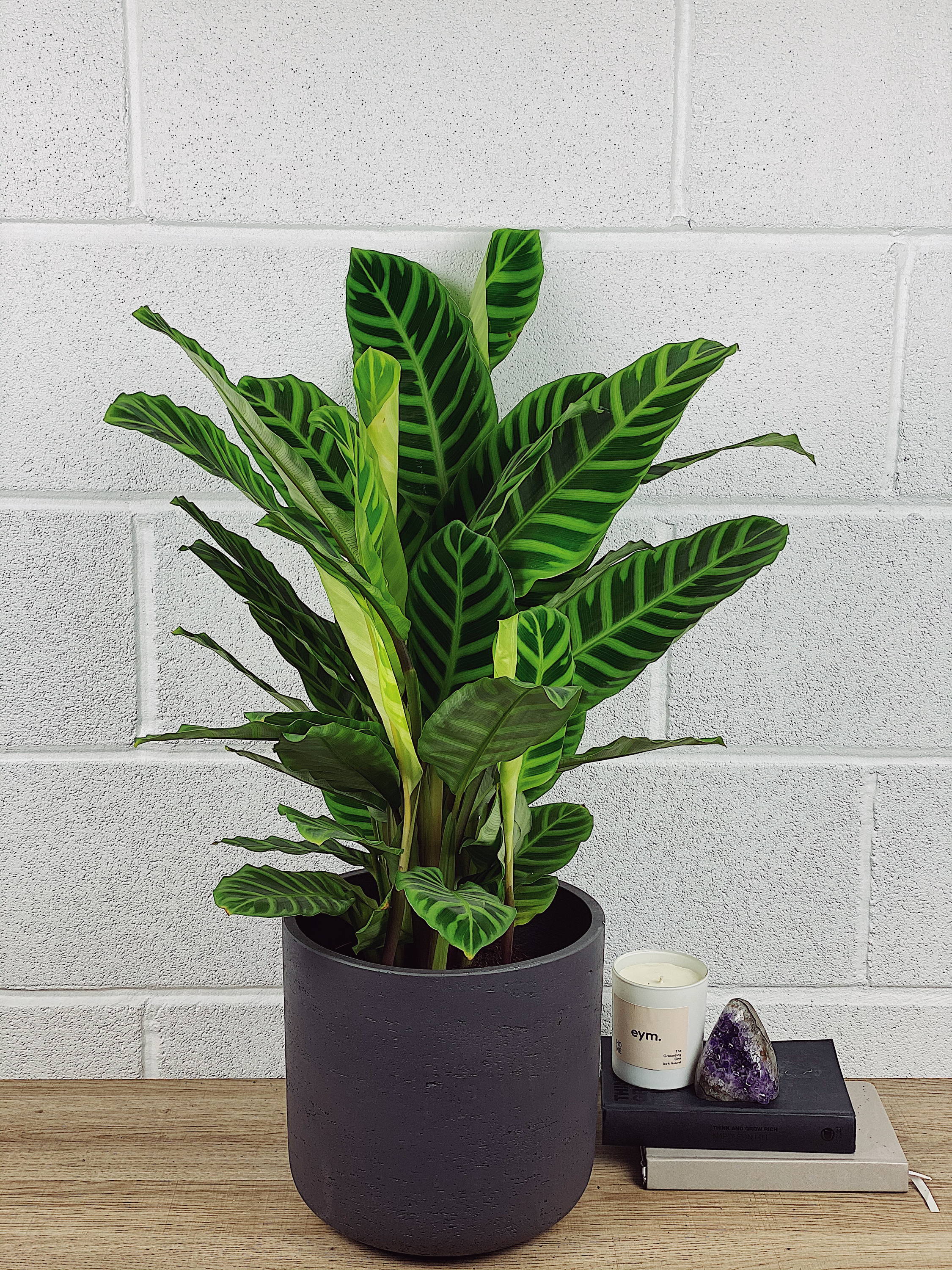 ​Marty is a spectacular ornamental plant that can be styled with other humidity loving plants like Pete, the coffee plant, Mike or Frank. They will help each other by increasing the humidity around their environment. Marty's bold leaves are sure to bring the tropics to any shady part of the home.
Pair this tropical houseplant with the compassion crystal or the meditative candle for a positive environment.
We use a next day delivery service with one of our trusted couriers. Please allow a little bit of packing time. During COVID and busy times this can be up to 5 days.
Your personal information and data is secure with us. This is our website platform providers bread and butter. Uncompromised safety & security.
If you have received a damaged plant or within 15 days you have any trouble after following our care guidance we will offer you a replacement.
WE PLANT 5 TREES FOR EVERY ORDER
Our goal is to plant 1 million trees by 2025 to help save our environment.