ABOUT OUR ALOCASIA STINGRAY
Hey, I'm Frank the Alocasia Macrorrhiza stingray. My name's pretty long and it's one of many, including the elephant ear plant or Alocasia stingray. To save your breath, just call me Frank. The first thing you probably noticed about me is my pointed leaves which resemble a stingray and are how I got my name. I like to think of myself as a rare beauty that will bring some tropical vibes into your home.
My family consists of over 79 species and I'm sure there's more of us yet to be discovered. I'm native to the tropical rainforests of Asia but nowadays I grow all over the subtropics. I have grown independently throughout the Mediterranean, Asia and Australia where I can enjoy the warmer temperatures.
Small height (including nursery pot) 40cm; pot diameter 14cm. (Fits a 15-16cm pot)
In Vietnam, elephant ear plant stalks are chopped, peeled and cooked to be used as an herb in local soups and stir-frys. If not cooked properly, they can be poisonous, so it's best to leave this to the professional chefs in Asia.
Frank's eccentric leaves are like no other houseplant. Place him in an entrance hall with dappled sunlight so he can be fully appreciated.

QUICK ALOCASIA STINGRAY PLANT CARE

Frank is a tropical beauty bursting with personality. He'll be sure to remind you of the ocean every time you look at him.

 I prefer filtered light or partial shade. The perfect spot for me would be a metre away from any window that has shutters or blinds that filter the bright sunlight.

Keep my soil consistently moist and never allow my soil to dry out or be too soggy.

I like high humidity, so place me next to a humidifier or in a bathroom.

 I'm a big drinker and like to be fertilised once every month in the growth season, March through September.
The best room for the Alocasia stingray is in any room with filtered light such as a living room or bedroom.
THINGS WE ALWAYS GET ASKED

How do you take care of Alocasia stingray?

The best way to take care of your Alocasia stingray is by giving him consistently moist soil, high levels of humidity and warm indoor temperatures. Frank will drop his leaves with any sign of stress so it's important to keep him away from any windows, drafts or radiators. He will start to yellow if given too much water or if watered with tap water, so he prefers filtered or rainwater.
Do elephant ear plants need sun or shade?

Elephant ear plants prefer a mixture of sun and shade. They can be very sensitive to direct sunlight so it's best to keep Alocasia's away from any windows. Use a large plant like Sasha and Carlos to break up any harsh sunlight. If they receive too much shade this can cause the plant to wilt and fail to produce any new growth.
Are elephant ear plants poisonous?
Yes, the elephant ear plant can be poisonous if ingested so it's important to keep your Alocasia away from your pets and young children. In some countries the stalks are consumed but only once properly cooked. We wouldn't recommend trying this at home!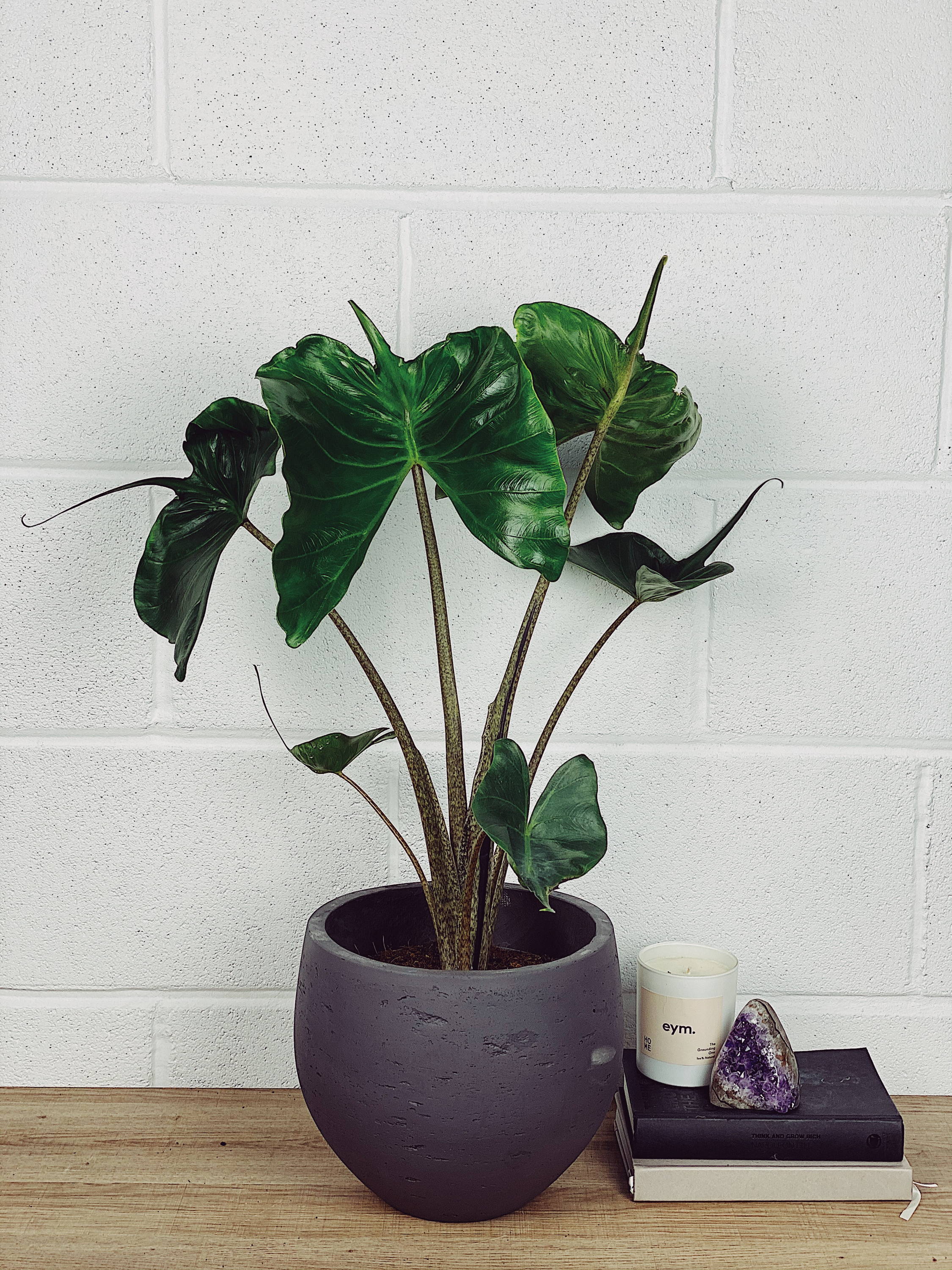 Add a touch of creativity with Frank. His interesting foliage can be used to lift up any empty space of the home. He will grow tall and thin and is the perfect plant for any corner. Keep him away from any pets or small children as he is toxic if ingested.
Pair this interesting plant with the reflect crystal or ​our reed diffuser for a positive and welcoming home environment.
We use a next day delivery service with one of our trusted couriers. Please allow a little bit of packing time. During COVID and busy times this can be up to 5 days.
Your personal information and data is secure with us. This is our website platform providers bread and butter. Uncompromised safety & security.
If you have received a damaged plant or within 30 days you have any trouble after following our care guidance we will offer you a replacement.
WE PLANT 10 TREES FOR EVERY ORDER
Our goal is to plant 1 million trees by 2025 to help save our environment.