ABOUT OUR CALADIUM PEPPERMINT
Hello, I'm Callum the Caladium peppermint. I'm also known as the lance-leaf Caladium. It's time to move your other houseplants aside to make room for my fabulous colours. You can certainly tell from my profile pic that I have no plans on fading into the background. My shades of pink, white and green are the only mood booster you'll need this summer.
In the wild, I'm found in the tropical rainforests of Central and South America. I'm just one of the one thousand known species of Caladiums that are incredibly unique and out-of-this world beautiful. Like many tropical plants it's very important you place me in a warm and humid room. You may notice my foliage turn brown or crispy if the air is too dry. I would suggest using a humidifier nearby or placing me in a room with at least 60% humidity. Find out how you can increase humidity for me here.
My mood-boosting colours are exactly what this summer needs. Allow my quirky leaves to transport you to tropical bliss.
Small Height (including nursery pot) 30cm; pot diameter 13cm.
The Caladium peppermint becomes more colourful as it matures. The speckled red will increase on new leaves over time so you'll never have two leaves that look the
The Caladium peppermint is bursting with colour and personality. What better way to decorate your home than with uplifting shades of pink and white.

QUICK CALADIUM PEPPERMINT PLANT CARE

The Caladium peppermint likes a warm and humid environment. Never allow her soil to dry out or become soggy.

 Keep me away from direct sunlight. I do like bright light but I should be kept away from big windows that could let in a lot of hot light.

Check my soil twice a week and only water when the first inch or two is dry. Make sure you reduce your watering schedule in the winter months.

I need high levels of humidity so my leaves don't get crispy. Find out how you can increase humidity here.


FAST FACTS ABOUT CALADIUM PEPPERMINT

The best room for your Caladium peppermint is in a bright living room.
THINGS WE ALWAYS GET ASKED

How do you take care of a Caladium Peppermint?
The Caladium peppermint should be placed in a bright and well-lit part of the room. Like many houseplants, the Caladium should be placed away from direct sunlight as this will burn his delicate foliage especially in the summer months. It's a good idea to keep the Caladium peppermint away from open windows, frequently used doors or draughty hallways. The perfect spot for him is away from any drafts with a consistent temperature of between 18ºC-24ºC. In the summer months his watering and fertilising should be increased. Keep his soil consistently moist and never allow the soil to dry out or become soggy. To encourage new growth use the fortifying fertiliser once a month throughout the months of March-September.
Does a Caladium need sunlight?

The Caladium should be kept out of sunlight to avoid any of his beautiful foliage from burning. The best spot for the Caladium peppermint is 1-2 metres away from a west or east-facing window. Avoid placing the Caladium near a window in the summer months when the sun is at its hottest.
Do Caladiums like lots of water?

The Caladium will need more water if placed in a bright spot during the summer months. Check the soil twice a week and only water when the first inch of soil is dry. Keep the soil evenly moist and not soggy. Reduce your watering if the plant is placed in a shady area or it is Winter.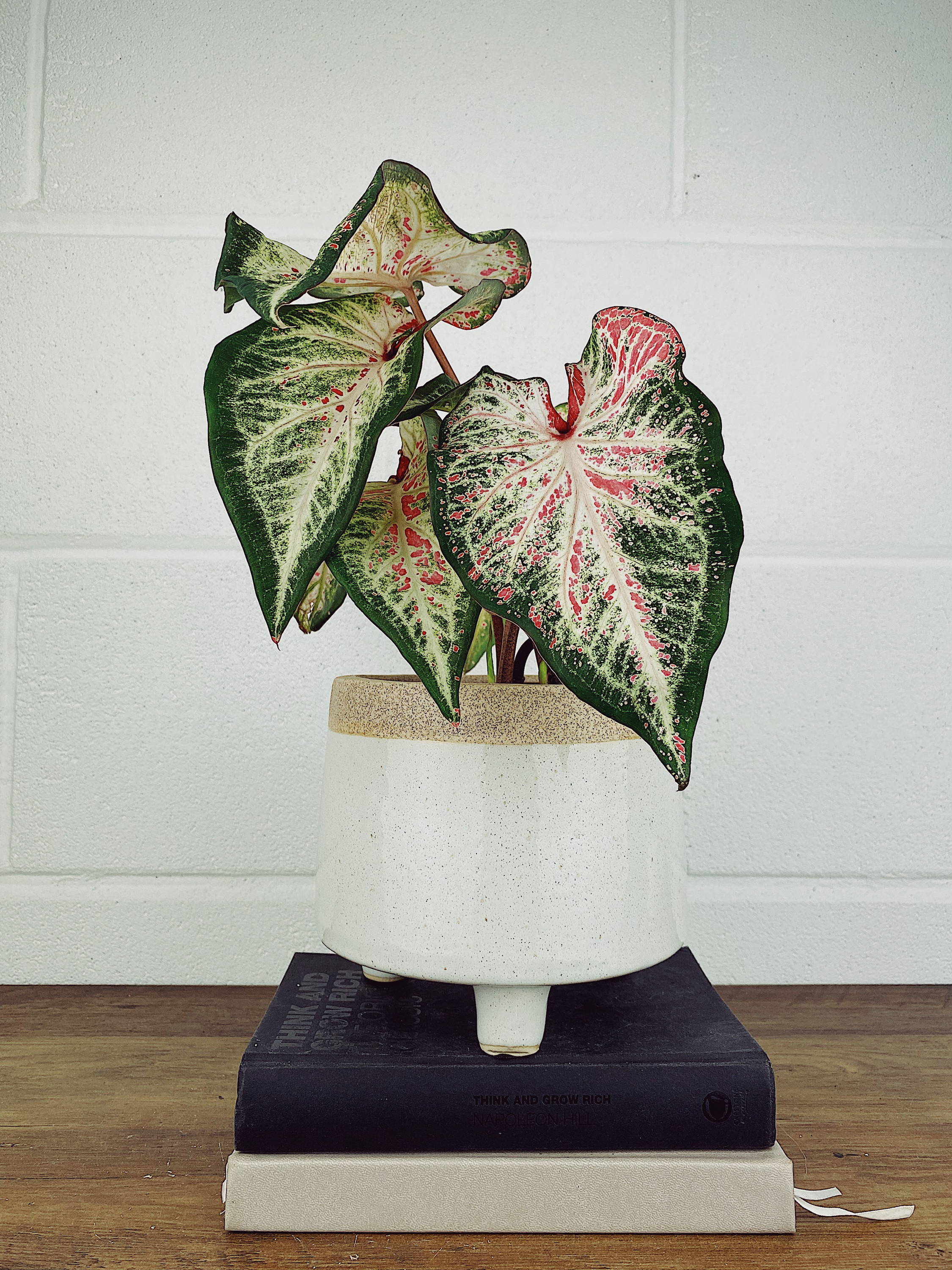 To help encourage the humidity around the Caladium's environment, place him next to plants that will release humidity into the air like Bonnie the spider plant and Lily the peace lily. Aesthetically, if pink is your thing then take a look at Jane the Aglaonema light star for another burst of pink in your home.
Use the white and pink quartz crystal to eliminate negative energies and welcome a positive environment in your happy place.
We use a next day delivery service with one of our trusted couriers. Please allow a little bit of packing time. During COVID and busy times this can be up to 5 days.
Your personal information and data is secure with us. This is our website platform providers bread and butter. Uncompromised safety & security.
If you have received a damaged plant or within 30 days you have any trouble after following our care guidance we will offer you a replacement.
WE PLANT 10 TREES FOR EVERY ORDER
Our goal is to plant 1 million trees by 2025 to help save our environment.