ABOUT OUR CALADIUM POSTMAN JOYNER
Hey there, I'm Cali the Caladium Postman Joyner. I'm one of those plants that can really turn heads. It's really hard to ignore my incredible quirky leaves that just scream 'take me home'. You can probably tell that I'm grown to be an instant mood booster. Perhaps your home office is the best place for me so you have something beautiful to admire during those long work calls.
Originally I'm from Central and Southern America. Here I enjoy the warm, tropical weather and thrive on high humidity and plenty of light. In the wild, I'm protected by larger trees which keeps my foliage from burning. I love bright light but I should be placed at least one metre away from any window that lets in direct sunlight. My leaves are grown from bulbs so don't panic if you notice all my leaves die back in Autumn. This is perfectly normal as I head into my dormancy stage. I'll be back early Spring. Being a tropical plant, I love humidity and should be kept near a humidifier or grouped with other humidity-loving plants to help boost those humidity levels.
My mood-boosting colours are exactly what this summer needs. Allow my quirky leaves to transport you to tropical bliss.
Medium Height (including nursery pot) 40-50cm; pot diameter 17cm.
In the winter months, the Caladium species goes into full dormancy and will drop all of its leaves. Don't worry if this happens! Place the plant in a warm spot and reduce your watering. The foliage will grow back the following spring.
The Caladium Postman Joyner is a bold plant. Use her beautiful, pink foliage as a focal point to liven up your space.

QUICK CALADIUM POSTMAN JOYNER PLANT CARE

The Caladium sweetheart is a humidity-loving plant. Keep her environment warm and draught-free.

I do prefer bright light, but keep my lovely foliage away from direct sunlight.

Make sure my soil never dries out. I prefer evenly moist soil that isn't dry or soggy.

I need high levels of humidity so my leaves don't get crispy. Find out how you can increase humidity here.


FAST FACTS ABOUT THE CALADIUM POSTMAN JOYNER

The best room for your Caladium Postman Joyner in a bright bedroom.
THINGS WE ALWAYS GET ASKED

How do you take care of a Caladium Postman Joyner?
Taking care of the Caladium Postman Joyner is easy and rewarding. Like many tropical plants the caladium prefers lots of natural light, warm temperatures and plenty of humidity. Keep the humidity in the room at a high level to avoid any browning tips or crispy edges. Use plants like Lily the peace lily and Bonnie the spider plant  in the same room which can help increase the overall humidity. Also check out our blog on increasing humidity in your home. It's a good idea to keep the Caladium sweetheart away from open windows, frequently used doors or draughty hallways. The perfect spot for the caladium is away from any drafts with a consistent temperature of between 18ºC-24ºC. To encourage new growth, use the fortifying fertiliser once a month throughout the months of March-September.
Does a Caladium need sunlight?
All plants need some natural light to survive and should never be kept in a windowless room. The Caladium Postman Joyner should be kept in a place with plenty of natural indirect light. Never place the Caladium Postman Joyner in a place where there is direct sunlight. Direct sunlight will burn the delicate leaves especially in Summer when the sun is at its hottest.
Do Caladiums like lots of water?
The Caladium Postman Joyner prefers evenly moist soil. Never allow the soil to dry up or become excessively wet or soggy. Check the soil once every 5-7 days and only water if the first two inches of soil are dry. The amount of watering will depend on how much light the Caladium is getting and whether it is summer or winter.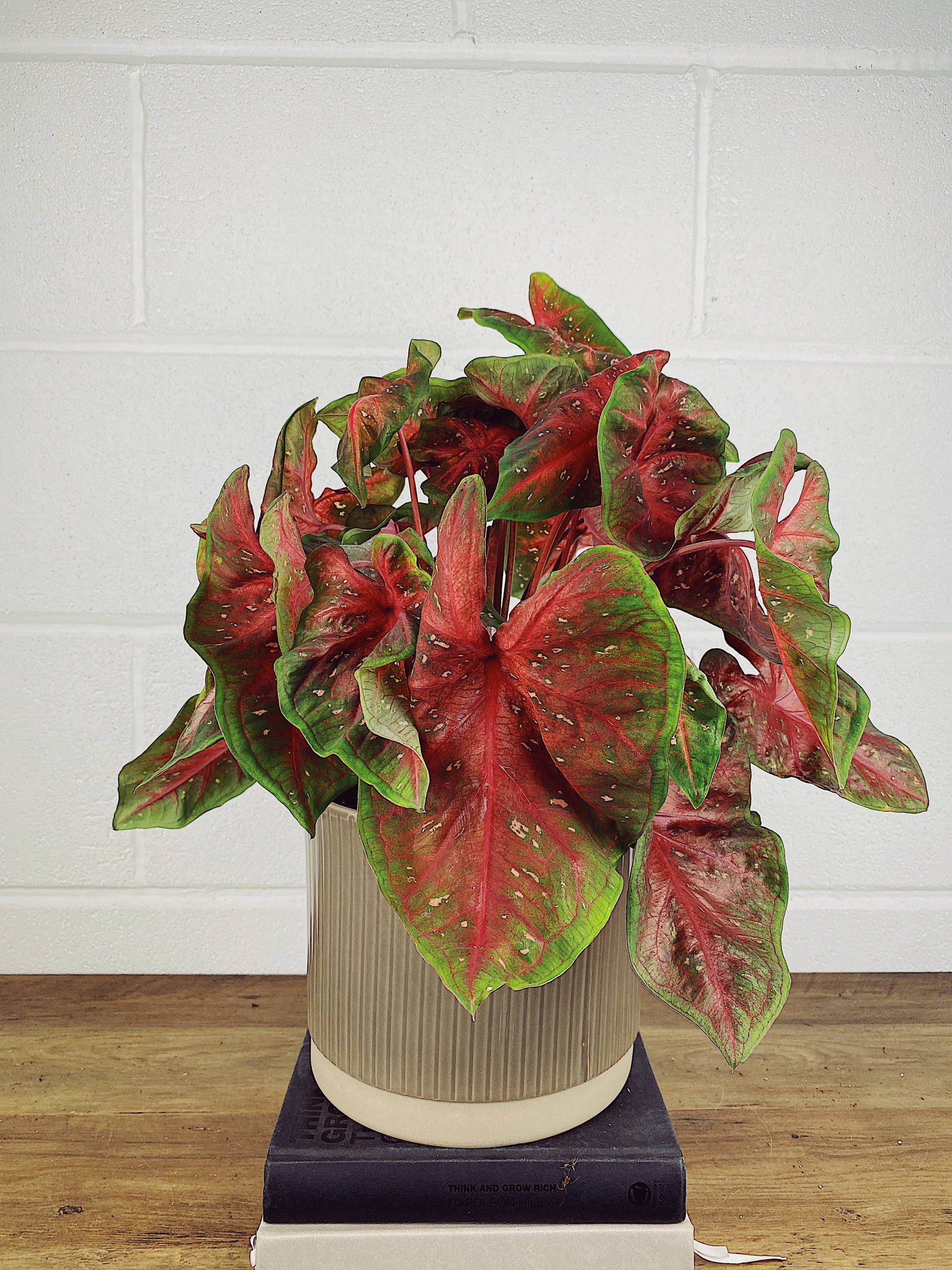 ​Cali the Caladium should be designed around a bright living room or bedroom. Place the Caladium Postman Joyner in a place where it can be admired throughout the day. Aesthetically, if pink plants are your thing then take a look at Jane the aglaonema and Callum the caladium peppermint.  
Match Cali the Caladium with something completely unique, take a look at our Black obsidian sphere.
We use a next day delivery service with one of our trusted couriers. Please allow a little bit of packing time. During COVID and busy times this can be up to 5 days.
Your personal information and data is secure with us. This is our website platform providers bread and butter. Uncompromised safety & security.
If you have received a damaged plant or within 30 days you have any trouble after following our care guidance we will offer you a replacement.
WE PLANT 10 TREES FOR EVERY ORDER
Our goal is to plant 1 million trees by 2025 to help save our environment.