ABOUT OUR CALATHEA FLAMESTAR
Hi there, my name's Buzz the Calathea flamestar. Nope, I'm not a plant from another planet, although I can understand why my boldly patterned foliage might make you think so. I'm 99.99% sure I'm the jazziest houseplant here at Pointless Plants and a testament to how bonkers nature can be. Also, did any plant ever have a cooler name than me?
I grow in the Amazon rainforest where I enjoy dappled sunlight, warm temperatures and high levels of humidity. My family's pretty massive - there are around 500 species of us - and my siblings Catherine and Ziggy are two of the Pointless Plants customers' faves.
Because I'm so tropical to look at, hanging out with me is probably the next best thing to an exotic holiday abroad. Bring me into your home and allow my gorgeously variegated leaves with dramatic purple undersides to boost your mood throughout the day.
Small height (including nursery pot) 50cm; pot diameter 14cm.
Big height (including nursery pot) 70-80cm; pot diameter 19cm.
Being from the prayer plant family, the Calathea Flamestar's leaves move throughout the day. Don't worry, this is perfectly normal: their leaves are just following the sunlight and will stand up tall at night when the sun sets.
Buzz has irresistible foliage that will make you feel like you've gone to a tropical island - all without leaving your home.

QUICK CALATHEA FLAMESTAR PLANT CARE

This Calathea likes high humidity and dappled light. Place him in a shady part of your home.

I much prefer medium light as anything too strong can burn me. Protect my gorgeous foliage by keeping me out of any direct sunlight.

Keep my soil moist by only watering me when the first few centimetres of soil are dry. I don't like overly wet or dry soil.

I love high levels of humidity, so place me next to a humidifier to avoid any crispy leaves.

You can use a diluted fertiliser once a month in the growing season, and I don't need any fertiliser in the winter months.
 The best room for the Calathea flamestar is in a steamy bathroom where Buzz can get his humidity boost.
THINGS WE ALWAYS GET ASKED

How do you care for a Calathea?
Buzz is a very rewarding houseplant to care for. He will push out plenty of new growth in the summer months, which means you'll be able to enjoy his groovy leaves even more. Keep Buzz's soil moist and avoid him drying out too much as this will cause his leaves to turn brown. He'll also want to be near a humidifier as this will help replicate his normal environment and keep his foliage fresh and vibrant. While Buzz might like to think he's a tough guy, he can actually be a bit sensitive to the chemicals found in tap water, so filtered or rain water is best for watering and will keep any crispy, brown leaves at bay.
Are prayer plants hard to care for?

We're not going to lie: the prayer plant family can be a bit finickity. However, once you've got to know Buzz, you'll find he's pretty straightforward deep down. Our biggest tip is to keep him in a humid environment - such as the bathroom or by a humidifier - as he's a sucker for warm, hot air.
How often should you water a Calathea flamestar?
In the summer, Buzz might need watering twice a week but always check the first few centimetres of his soil is dry before you do. Reduce your winter watering schedule down to once every eight days or so, although you'll need to use your nous for this one - it all depends on how moist his soil is!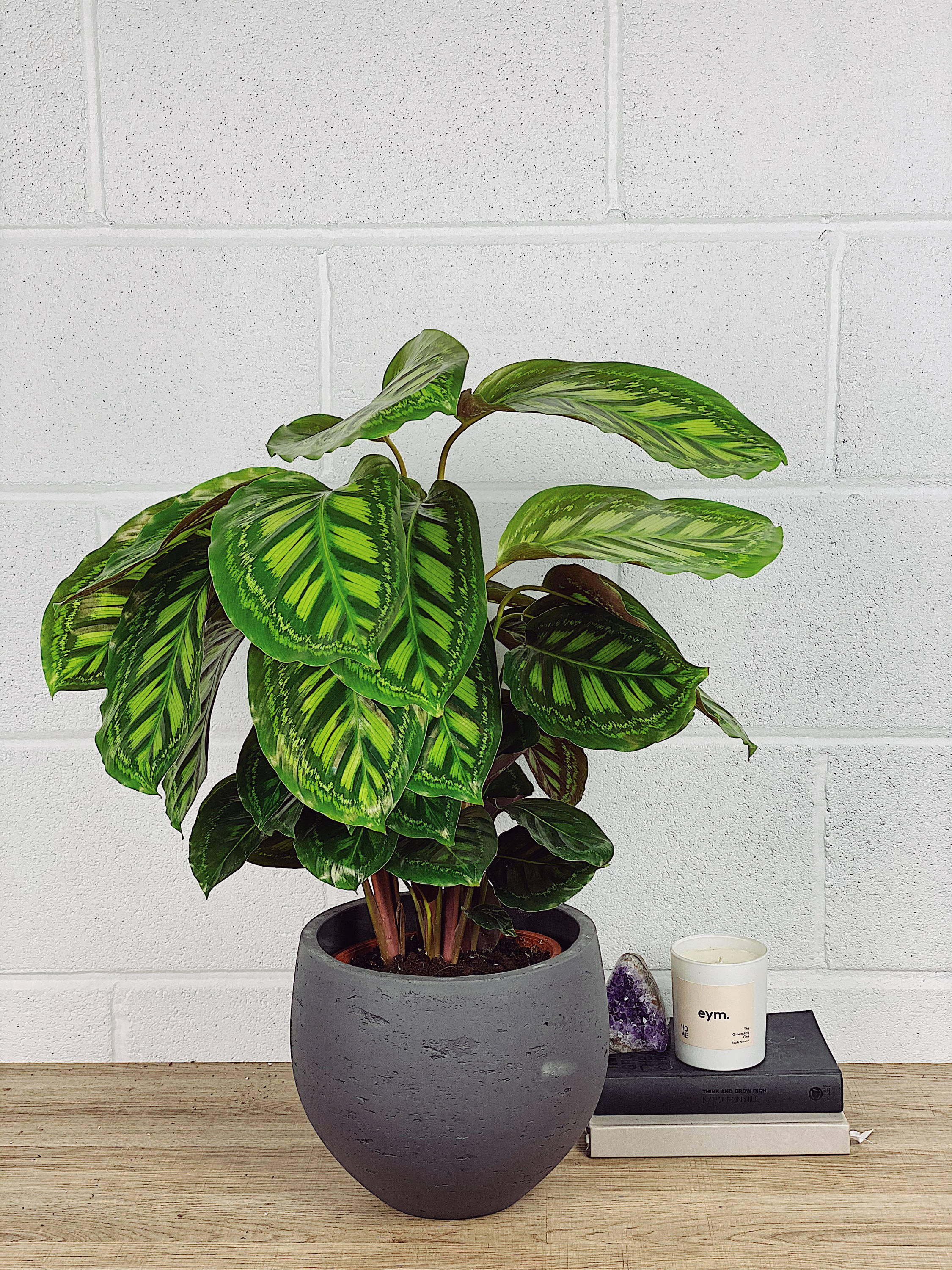 Buzz is certainly a plant that should be on display for everyone to see. Place him in a plain coloured pot so he's the centre of attention and he'll dazzle and delight in equal measures.
Pair Buzz's spectacular leaves with a healing crystal or harmony crystal for relaxing vibes in your bathroom or wherever you decide to put him. .
We use a next day delivery service with one of our trusted couriers. Please allow a little bit of packing time. During COVID and busy times this can be up to 5 days.
Your personal information and data is secure with us. This is our website platform providers bread and butter. Uncompromised safety & security.
If you have received a damaged plant or within 30 days you have any trouble after following our care guidance we will offer you a replacement.
WE PLANT 10 TREES FOR EVERY ORDER
Our goal is to plant 1 million trees by 2025 to help save our environment.