ABOUT OUR EUPHORBIA CRISTATA
Hey there, I'm Boris the Euphorbia Cristata. I'm also known as the coral cactus. This is from my resemblance to the coral you might find on the sea bed in an exotic country. As you can probably tell from my look, I'm a very exotic plant. I'm the ideal candidate to place next to a sunny window or in a bright conservatory. Not only do I boost incredibly good looks but you can also use me as a shield to block direct light so your other plants don't get burned.
I'm part of the Euphorbiacae family which includes over 2000 species with more to be discovered I'm sure. I will grow wherever the sun is shining but I'm most commonly found in dry parts of Asia and Eastern Africa. Like my brother Carlos, I love being placed in a sunny spot and won't complain if you let my soil dry out. I'm incredibly drought tolerant and will prefer to be left alone to enjoy the sunshine.
If you're looking for a gorgeous and low maintenance houseplant then look no further. I'll turn up the tropical vibes in your sunny home without any hassle at all.
Small Height (including nursery pot) 25cm; pot diameter 10cm.
Every Euphorbiacae species has a milky sap in its stems which is so poisonous that it's used by indigenous people of Southern Africa to make arrow tips.
The Coral Cactus has an intricate flair that should be a statement piece in your sunny kitchen or living room.

QUICK EUPHORBIA CRISTATA PLANT CARE

Boris is laid back and happy to go with the flow. He prefers a sunny room with minimal watering.

I adore the sunshine. A south facing window or bright conservatory is best.

I like my soil dry and can be very sensitive to overwatering. Once every 2-3 weeks in the hot months is sufficient.

I can tolerate normal household humidity.

Use a cacti fertiliser once a month in the months from March-September. Do not fertilise me in the winter months.
The sunniest room in your space.
No. The milky sap is toxic if ingested.
THINGS WE ALWAYS GET ASKED

How do you take care of a Euphorbia plant?
Caring for Boris is easy peasy. He loves sunshine and warm temperatures of around 18ºC-26ºC. Boris should be kept away from radiators and cold drafts as he doesn't like excessive amounts of heat or cold. Boris is sensitive to wet or overly moist soil. Keep your Euphorbia Cristata on the drier side and only water when the first 3 inches of soil are bone dry. In the winter months you can significantly reduce your water schedule to once every 2-3 months.
Is Euphorbia fast growing?
Boris's is a relatively slow grower but can be encouraged to grow with a cacti fertiliser once a month from March-September.
Is the Euphorbia tree poisonous?
The Euphorbia species is poisonous if ingested. Keep Boris on a dresser or console table away from any curious pets or young children.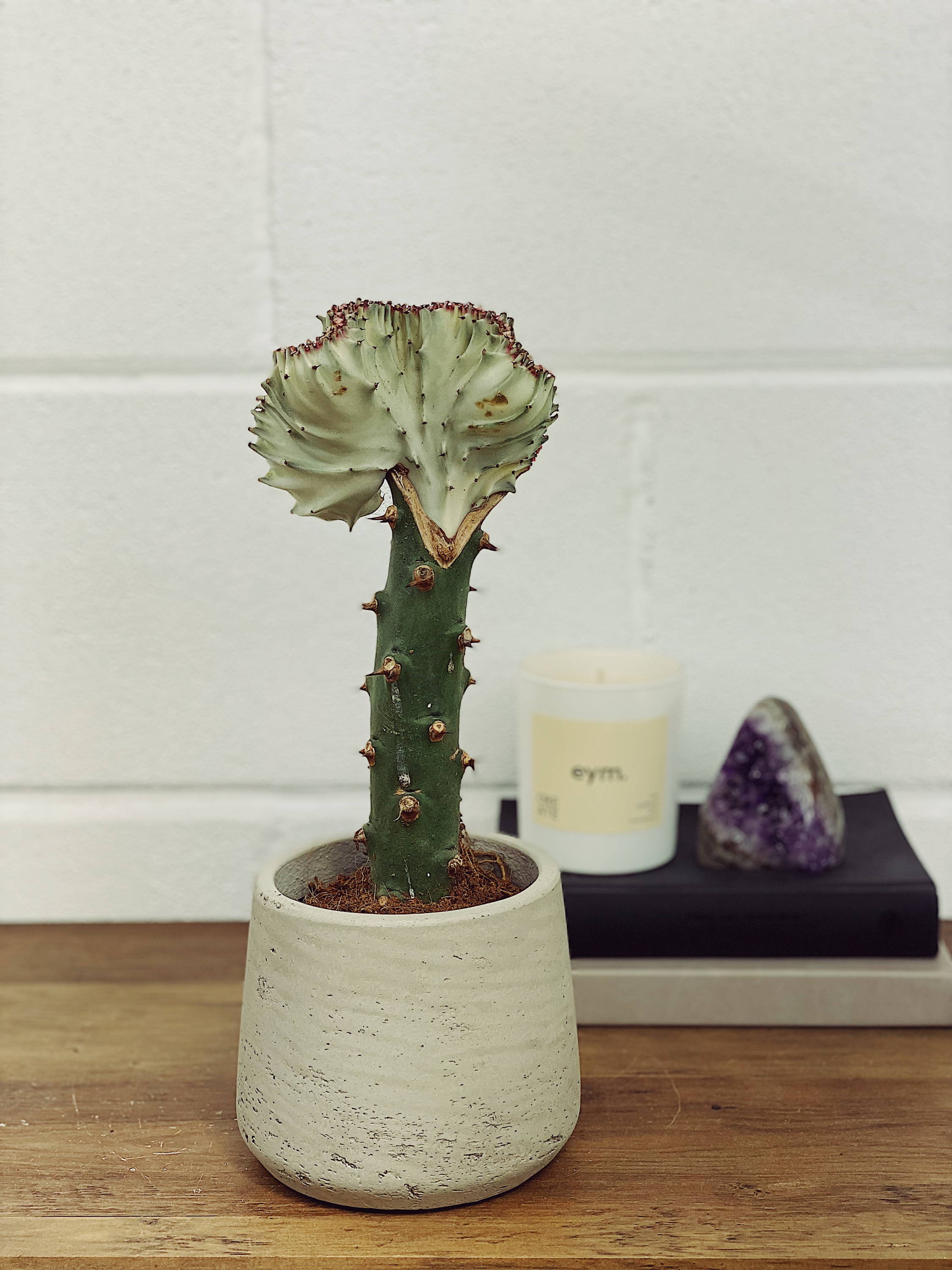 Boris's quirky style should be the centerpiece to a kitchen table, or focal point on your windowsill. Place him in an urban grey pot to complement Boris's exotic vibes. If you're looking for a friend for Boris, take a look at Alex and Sasha who are both equally as low maintenance and love the sun.
Match Boris's vibe with the white indoor watering can and add some colour with the energising point crystal.
We use a next day delivery service with one of our trusted couriers. Please allow a little bit of packing time. During COVID and busy times this can be up to 5 days.
Your personal information and data is secure with us. This is our website platform providers bread and butter. Uncompromised safety & security.
If you have received a damaged plant or within 30 days you have any trouble after following our care guidance we will offer you a replacement.
WE PLANT 10 TREES FOR EVERY ORDER
Our goal is to plant 1 million trees by 2025 to help save our environment.