ABOUT OUR ALOCASIA CUCULLATA
Hey there, I'm Cucu the Alocasia cucullata. I'm a rare and exotic Alocasia that can be hard to come by. I also go by the name of chinese taro, buddha's hand, chinese ape and hooded dwarf elephant ear. My heart-shaped, glossy foliage is a perfect addition to a cosy snug or living room. I'm known to be hardier than my Alocasaia brothers and sisters so I'm the ideal companion for an Alocasaia beginner. I prefer a little morning or evening light and should be kept away from any south-facing windows. My leaves could easily burn in the hot sun.
My Alocasia family consists of over 79 species all with elephant ear or heart-shaped leaves. You can find me in Southeast Asia where I thrive underneath the canopy of larger trees. I love warm temperatures, high humidity and appreciate a monthly fertiliser in the spring and summer months. The best way to help me settle into your home is by replicating my natural habitat. Avoid placing me next to a radiator or a draughty hallway. My large, leafy stype is just the ticket for the corner of your bright living room. Place me on a stool or in a Pom Pom basket for a further tropical look.
Height (including nursery pot) 55-70cm; pot diameter 14cm
The Alocasia species has a very high leaf turnover so you might notice many leaves dying off just so new ones can form.
The Alocasia Cucullata is truly a magnificent beauty. It's heart shaped leaves are just the leafy bliss your living room corner is missing.

QUICK ALOCASIA CUCULLATA PLANT CARE

The Alocasia Cucullata prefers a bright room with high humidity and regular watering.

I can cope with morning or evening sun but I can't handle any full sun.

I prefer my soil to be consistently moist. Don't let my soil dry out or become soggy.


Only fertilise me when I'm actively growing. This will usually be from March-September.

FAST FACTS ABOUT ALOCASIA CUCULLATA

THINGS WE ALWAYS GET ASKED

How do you take care of an Alocasia cucullata?
The Alocasia Cucullata is a tropical beauty that is easy to care for with little effort. Place Cucu in a room with plenty of bright, indirect light. The Alocasia Cucullata prefers high humidity and filtered water. If the humidity is too low then you might notice Cucu turn brown. Cucu will need time to adjust to its new home so don't be surprised if it takes a few weeks to settle in. It's very normal for a few leaves to drop in the beginning so don't panic if this happens. Keep Cucu away from a draughty hallway or near a radiator. The Alocasia Cucullata isn't draught or old tolerant and will prefer to be in a warm and draught-free spot.
Alocasias prefers a brighter spot in the home. It's important to keep the Alocasia Cucullata out of direct sunlight because it's leaves could be burned from the sun - especially in the summer months. All plants need some natural light to survive and Alocasias will grow faster and push out more growth in a well lit room.
Do Alocasias like to be misted?
Alocasia Cucullata need high level humidity to avoid crispy or brown leaves. Find out how you can increase humidity around your plant here. Misting alone will not increase the humidity levels enough so a humidifier is preferred. In some cases misting your plants can lead to mould on its leaves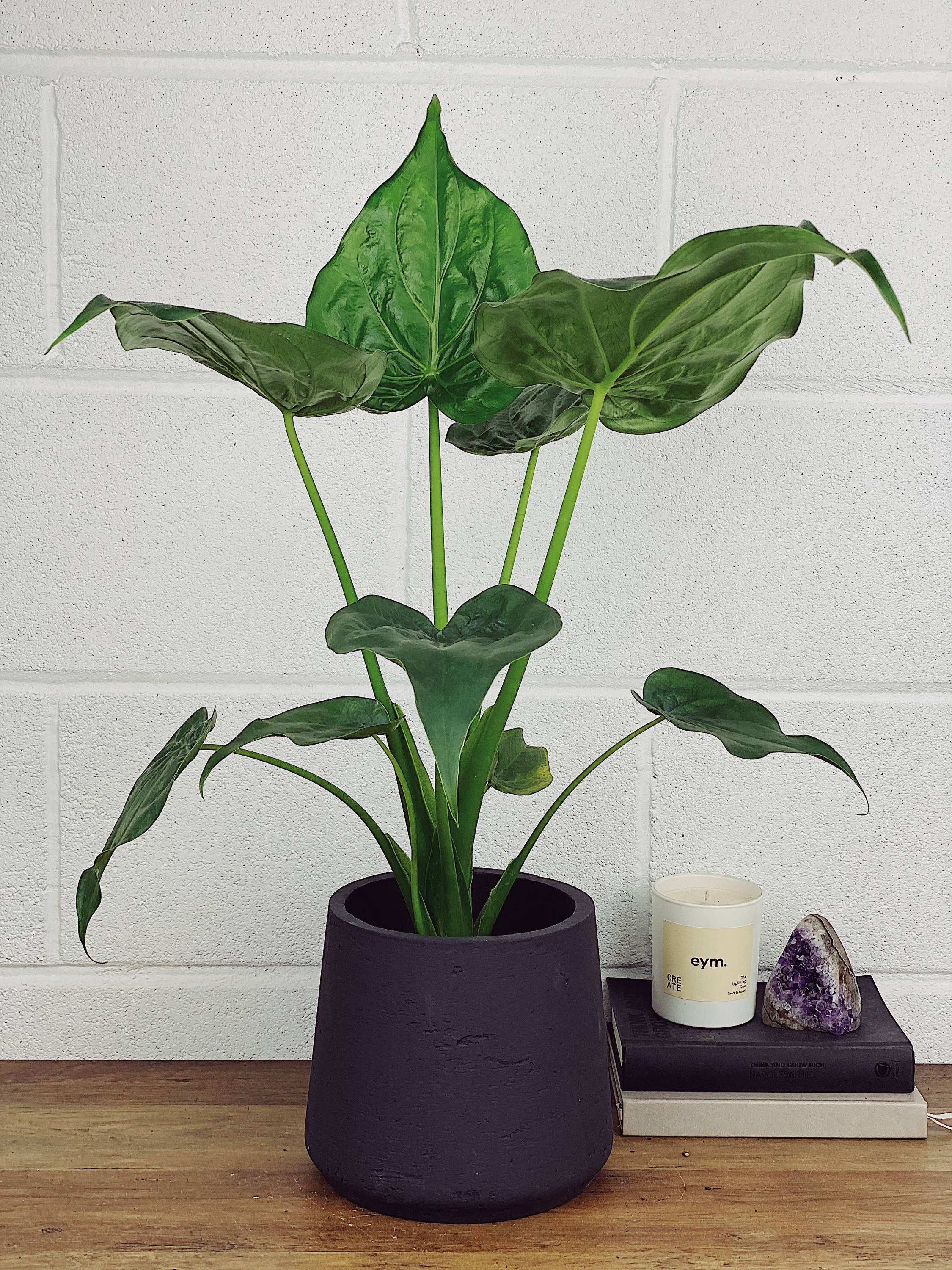 We use a next day delivery service with one of our trusted couriers. Please allow a little bit of packing time. During COVID and busy times this can be up to 5 days.
Your personal information and data is secure with us. This is our website platform providers bread and butter. Uncompromised safety & security.
If you have received a damaged plant or within 15 days you have any trouble after following our care guidance we will offer you a replacement.
WE PLANT 5 TREES FOR EVERY ORDER
Our goal is to plant 1 million trees by 2025 to help save our environment.