ABOUT OUR CALATHEA SANDERIANA
Hello, I'm Ziggy the Calathea! I have so many names and will answer to just about anything! My formal names are Calathea Sanderiana and Calathea Ornata but I prefer to keep it casual so you can call me pin-stripe calathea or, as I'm probably better known, a prayer plant. I have beautiful pink and white stripes on my dark green leaves, which is where I got my name from. I think they make me look both elegant and intriguing - I'm certainly no boring-leaved plant!
I'm from the Marantaceae family, which is more commonly known as the arrowroot family. My luscious dark green leaves will move upwards and stand up tall at night time, which is where I got the name prayer plant from. My leaves follow the light wherever it may go; if you're lucky, you might catch me moving.  
With my attractive pink stripes being so admired by houseplant beginners and professionals alike, I'm a very sought-after houseplant and guaranteed to liven up your home.
Small height (including nursery pot) 20-25cm; pot diameter 12cm. (Fits a 13-14cm decorative pot)
Big height (including nursery pot) 75-85cm; pot diameter 19cm. (Fits a 20-22cm decorative pot)
Calathea plants are very sensitive to the harsh chemicals found in tap water and would much prefer to be watered and misted with rain or filtered water.
Ziggy's stunning foliage can be appreciated in any room of the house as she is non-toxic if ingested by pets or small children.

QUICK CALATHEA SANDERIANA PLANT CARE

Ziggy will flourish in medium light and should be placed away from any windows.

I prefer a medium/bright indirect light and should be kept away from any big windows that let in direct sunlight as these can bleach my leaves!

Keep my soil consistently moist. I don't like dry or soggy soil.

Keep my humidity levels high by placing me next to a humidifier or moving me into a bathroom.

Feed me fertiliser once a month in the growth season, which is from March to September.
The best room for the Calathea Sanderiana is in a bathroom surrounded by other humidity loving plants.
Yes. She's non-toxic for both cats and dogs.
THINGS WE ALWAYS GET ASKED

How often should you water a Calathea Sanderiana?
The best time to water your pin-stripe Calathea is when the first few inches of soil are dry. This could be twice a week in the summer months and once every 10 days in the winter months; ultimately, it all depends on how much light you Calathea is getting. More light will mean you need to water it more often.
How do you care for pinstripe Calathea?
The pin-stripe Calathea needs medium light, moist soil and high humidity. She is very sensitive to cold drafts and open windows and so it's best to keep temperatures between 20°C and 24°C. Native to the tropical rainforests of Brazil, she will need a very humid room to thrive in; if the air is too dry for her leaves, their edges will turn brown and crisp.
How fast does Calathea Sanderiana grow?
Calatheas grow at a moderate rate and will push out a lot of new growth in the spring and summer months. To help encourage growth, use a diluted houseplant fertiliser once a month in the growth season. The Calathea is more likely to grow new foliage when the humidity levels are higher and its natural habitat is replicated.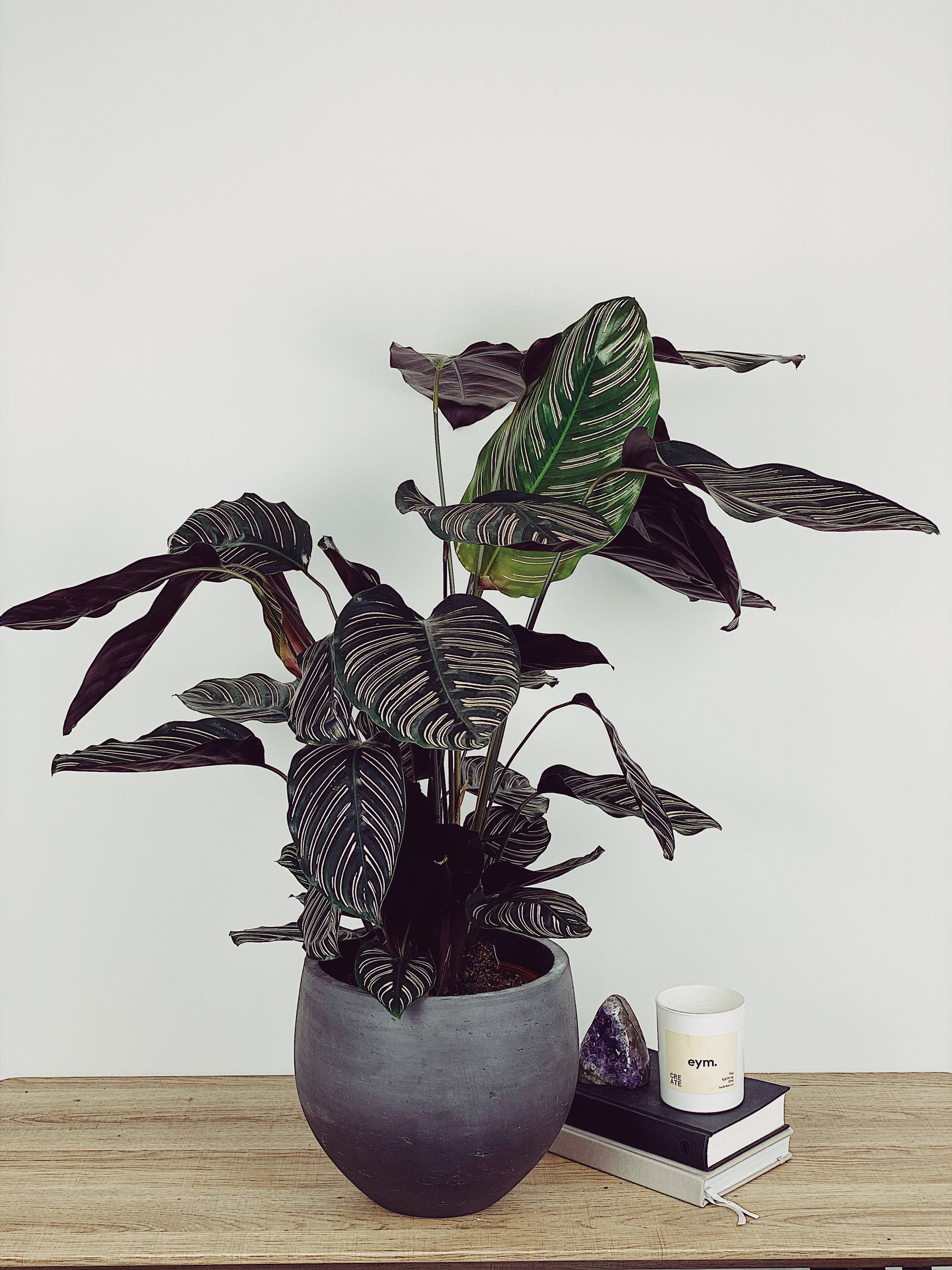 ​Ziggy's spectacular leaves are often used to decorate a bedroom or bathroom. Her pink stripes look good in a neutral coloured pot to avoid taking any attention away from her beauty. Place her next to a one-tone foliage plant like Lucy and Maya to make sure her stripes really stand out. As she's non-toxic and animal and human-safe, you can even place her in a playroom or children's bedroom for a splash of colourful fun.  
Pair this funky plant with a calm crystal on your bedside table for a relaxing and rejuvenating atmosphere in your bedroom.
We use a next day delivery service with one of our trusted couriers. Please allow a little bit of packing time. During COVID and busy times this can be up to 5 days.
Your personal information and data is secure with us. This is our website platform providers bread and butter. Uncompromised safety & security.
If you have received a damaged plant or within 15 days you have any trouble after following our care guidance we will offer you a replacement.
WE PLANT 5 TREES FOR EVERY ORDER
Our goal is to plant 1 million trees by 2025 to help save our environment.