ABOUT OUR FISHBONE CACTUS
Hi, I'm Finley the Epiphyllum Anguliger. Please call me the fishbone cactus, my scientific name is way too complicated to pronounce and I prefer to keep things simple. I have no doubt my quirky and groovy foliage has caught your eye. I'd say my interesting look is the ideal ornamental plant for any bright living room or bedroom. I'll admit I'm not your average looking cacti but I think that's what makes me so special.
You find me enjoying the humid and warm environment of Mexico. Unlike most cacti I need regular watering and plenty of humidity. It's very important to keep me out of direct sunlight and away from any drafts which will make my foliage curl from stress. I don't mind a lower or medium light but I will naturally grow faster in a room with plenty of natural light.
My 'under the sea' vibes are exactly what your coffee table or bedside table is looking for. My not-so-subtle foliage is ready to transform your space like no other plant could.
Small Height (including nursery pot) 20cm; pot diameter 12cm.
The fishbone cactus will bloom large, white and beige flowers in the late summer provided there's enough humidity and warmth.
The Fishbone Cactus is a beauty in its own right. The funky foliage is a must for any home with a love for indoor decor.

QUICK FISHBONE CACTUS PLANT CARE

The fishbone cactus prefers warm temperatures, high humidity and a room with plenty of natural light.

Keep me in a room that has plenty of natural light. Placing me near a window that has shutters or blinds will help protect my foliage from direct sunlight.

Avoid letting my soil dry out, I like regular watering but I hate soggy soil.

I love humidity and should be placed in a bathroom or put near a humidifier.

Fertilise me with the fortifying fertiliser once a month. I don't like being fertilised in the winter months though.

FAST FACTS ABOUT THE FISHBONE CACTUS

A bathroom with a frosted window and with high levels of humidity.
THINGS WE ALWAYS GET ASKED

How do I take care of a fishbone cactus?
The fishbone plant is easy to care for. Place the fishbone cactus in a room with plenty of natural light and away from any open window or drafts. The ideal temperature for the fishbone cactus is between 20ºC-25ºC. Keep the fishbone plant in a humid room or next to a humidifier. To help increase the humidity around the fishbone plant you can group the plant with houseplants that release humidity into the air like Bonnie the spider plant and Hamish the fern. 
Where should I place my fishbone cactus?
There are a few places in the home where the fishbone cactus would thrive. The ideal environment would be in an east or west-facing area where there is plenty of natural indirect light. Keep the fishbone cactus out of direct sunlight where the foliage can easily be burned.
How often should you water a fishbone cactus?
The fishbone cactus should be watered regularly in the summer and less frequently in the winter months. It's good practice to check the first inch or two of his soil every 5-6 days to make sure it is not drying out. Little and often amounts of water are ideal in keeping the soil moist but not wet.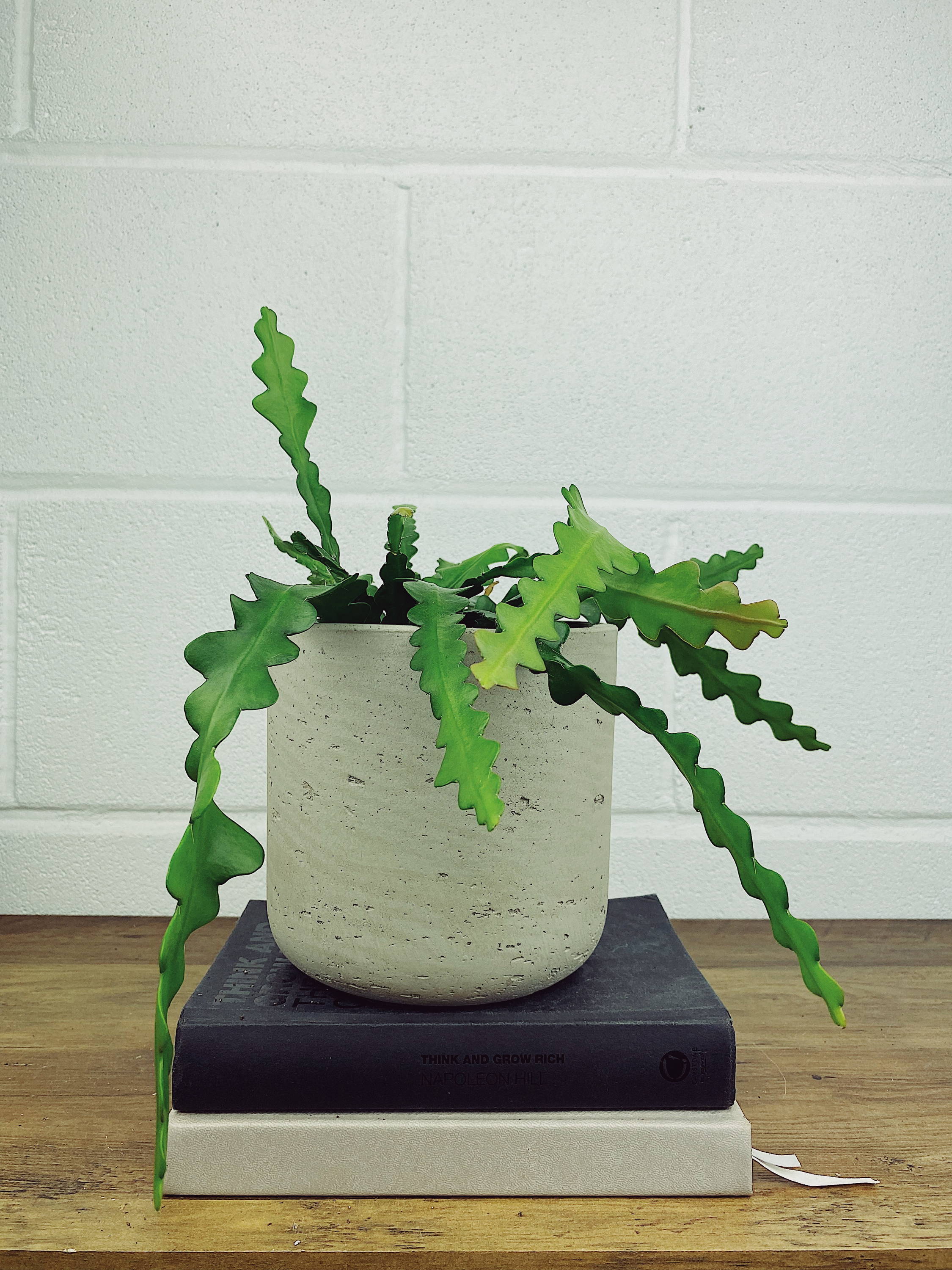 We use a next day delivery service with one of our trusted couriers. Please allow a little bit of packing time. During COVID and busy times this can be up to 5 days.
Your personal information and data is secure with us. This is our website platform providers bread and butter. Uncompromised safety & security.
If you have received a damaged plant or within 15 days you have any trouble after following our care guidance we will offer you a replacement.
WE PLANT 5 TREES FOR EVERY ORDER
Our goal is to plant 1 million trees by 2025 to help save our environment.