ABOUT OUR AESCHYNANTHUS PINK POLKA
Hey there! I'm Lola the Aeschynanthus pink polka. I usually go by the name lipstick plant or pink polka lipstick plant which reflects the bright pink blooms I will flower in the spring and summer months if given enough light and humidity. My foliage boasts multiple shades of green with round succulent-like leaves that can hold a lot of water at a time.
You can find me, along with my other 100 species in the tropical climate of Southeast Asia. In the wild, I'm known as an epiphyte where I grow on the surfaces of other plants and branches. Please don't get the wrong idea of me, I'm an independent organism and don't suck any nutrients out of the branches or plants I live on. I get all the nutrients I need from the environment around me. I like a warm and humid climate so I'm the perfect candidate for a steamy bathroom.
For my full vining effect place me in a hanging basket or pot near a window that offers plenty of natural light. I might even bloom my pink flowers for you if you treat me right. If you prefer a plant that blooms red flowers I would go and check out my brother Curly Wurly who is bouncy with personality.
Small Height (including nursery pot) 25cm; pot diameter 15cm.
Every species of the Aeschynanthus genus is known to bloom a different colour. There are over 100 species and collecting them all could give Notting hill carnival a run for their money.
Lola is full of personality and should be admired from below. Suspend her in a hanging pot and watch her foliage grow.

QUICK LIPSTICK PLANT CARE

Lola is a low maintenance houseplant that likes high humidity and a bright room.

I need plenty of natural light to thrive. Place me near a window with indirect bright light.

I'm quite drought tolerant and don't mind going a few weeks without water but always check the first two inches of my soil to make sure they're dry before you water me again.

I'm a humidity loving plant and need a humid environment. Find out how you can increase humidity here.

Fertilising me will help encourage my flowers to bloom. Once every four weeks will be enough from March-September.
In a bright living room or bathroom in a hanging pot.
THINGS WE ALWAYS GET ASKED

How do you take care of a lipstick plant?
Lola is an easy care plant and will reward you with pretty pink flowers in the spring and summer. Lola is a tropical houseplant and prefers a warm room away from any cold drafts or open windows. The ideal temperature for Lola is between 18ºC-25ºC. Keep the humidity levels high for Lola otherwise you might notice her leaves start to turn brown. Placing her nearby a humidifier or grouping her with plants that release humidity like Bonnie and Hamish will give the environment around your plant a little moisture boost. Allow Lola's soil to dry out a little before her next drink. She can hold plenty of water in her leaves and will not need watering as often as you may think. Checking the first two inches of her soil to see if they are dry will be a good indication that she is ready for a drink.
How long does it take for a lipstick plant to bloom?
Lola should bloom every year. In the growth season you can encourage her growth by using a houseplant fertiliser. She is also more likely to bloom flowers if placed in a well lit room that gets bright indirect light.
Do lipstick plants like to be misted?
Lipstick plants prefer consistent humidity that misting alone cannot provide. Place her in a humid room like a bathroom or place a pebble tray underneath her pot for a humidity boost.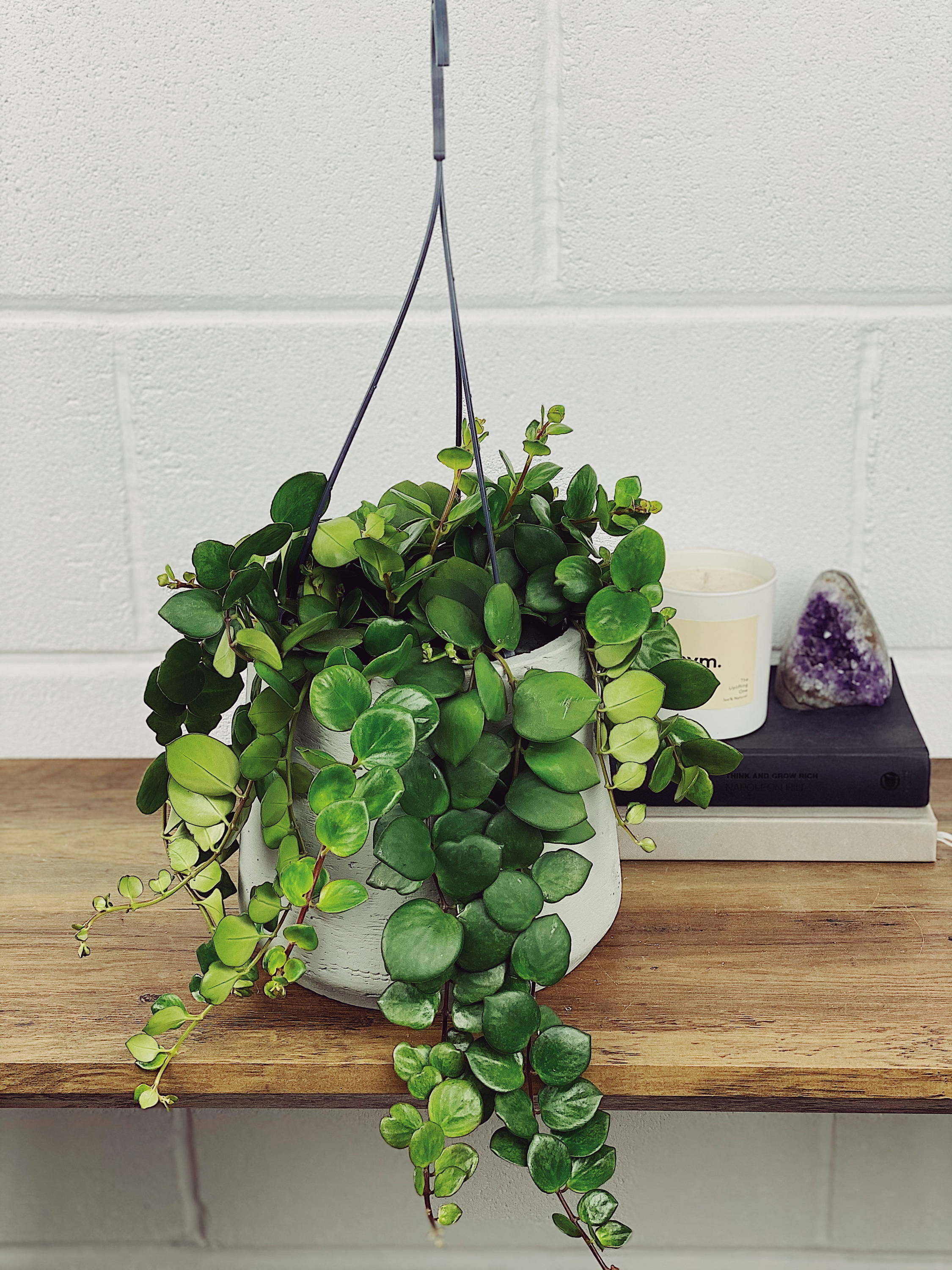 Lola is a stunning plant that will amaze you with her long, luscious vining stems. Place her in a hanging pot or drape her over a fireplace and let her vines hang loose. Group Lola with Zara and Maya to complement her foliage.
Add a power crystal and uplifting candle  to this unusual houseplant for a welcoming and quirky home environment.
We use a next day delivery service with one of our trusted couriers. Please allow a little bit of packing time. During COVID and busy times this can be up to 5 days.
Your personal information and data is secure with us. This is our website platform providers bread and butter. Uncompromised safety & security.
If you have received a damaged plant or within 15 days you have any trouble after following our care guidance we will offer you a replacement.
WE PLANT 5 TREES FOR EVERY ORDER
Our goal is to plant 1 million trees by 2025 to help save our environment.