ABOUT OUR WATERMELON PEPEROMIA
Hello there, I'm Bertie. I'm the Peperomia argyreia or otherwise known as the watermelon Peperomia. I'm nicknamed the watermelon plant due to my stripy foliage resembling the outside of a watermelon. I have that funky tropical look with the ideal compact size to fit in any nook or cranny available. My easy going nature makes me a favourite green friend amongst the houseplant community. Pop me on your mantelpiece or bookshelf for a splash of stripey goodness.
I'm native to South America where I enjoy the shady canopy of the forest. I'm more likely to thrive in a bright shady room when I can enjoy plenty of natural light. All together there's over 1,500 species of Peperomia which due to their attractive and hardy foliage make for very popular houseplants. For even growth I would recommend rotating my pot weekly so my foliage can look its best from every angle. If you'd like to place me close to a window I'd suggest placing me in the shade of a larger plant to protect me from any direct sunlight.
I'm a must have green friend for plant enthusiasts and beginners alike. My compact size is the ideal gift for someone special.
Small Height (including nursery pot) 20cm; pot diameter 12cm. (Fits a 12-15cm pot)
Bertie prefers a snug home and won't put up a fuss if he's root bound. He will happily stay in the same pot for many years at a time. Just another reason why Bertie is so laid back.
Bertie has quirky and interesting leaves that are just the right size to make sure every inch of your space is covered in foliage.

QUICK WATERMELON PEPEROMIA PLANT CARE

Bertie prefers high humidity, regular watering and partial sunlight.

I do prefer a bright light but nothing direct as this will burn my leaves.

Check the first two inches of my soil regularly and never let my soil dry out. I prefer my soil to be consistently moist rather than dry or soggy.

I do like a humid environment but can tolerate a dry room. Find out how you can increase humidity here.

I'm a fast grower in the spring and summer months. Fertilise me once every 4 weeks from the months of March-September.
A bright living room or bedroom. Bright indirect light will promote new growth.
THINGS WE ALWAYS GET ASKED

How do you take care of a watermelon Peperomia?
Bertie is a terrific beginner plant. He likes a bright room with indirect light, warm temperatures and good levels of humidity to keep any crispy leaves at bay. Being quite adaptable to his surroundings, he can tolerate a cold or hot room. Keep the temperature between 15ºC-30ºC. Keep Bertie away from any radiators as this will dry out his foliage and cause the edges of his leaves to crisp up. Check the first two inches of his soil once every 5-6 days and only water when it is dry. This will happen more often in the summer months and less frequently in the winter months.
Where should I put my watermelon Peperomia?
Bertie should be placed in a well lit room with plenty of natural light. Next to a frosted window in a bathroom is an ideal spot for Bertie to enjoy the high levels of humidity. In the winter months Bertie can tolerate a little morning or evening sunlight when the light is less harsh.
Is Watermelon peperomia fast growing?
Bertie will push out plenty of new growth in the spring and summer months. The more bright indirect light Bertie receives, the faster he will grow. In the winter Bertie will go into dormancy and there will be less growth from the months of November- March. Use our fortifying houseplant fertiliser to promote new growth from March-October.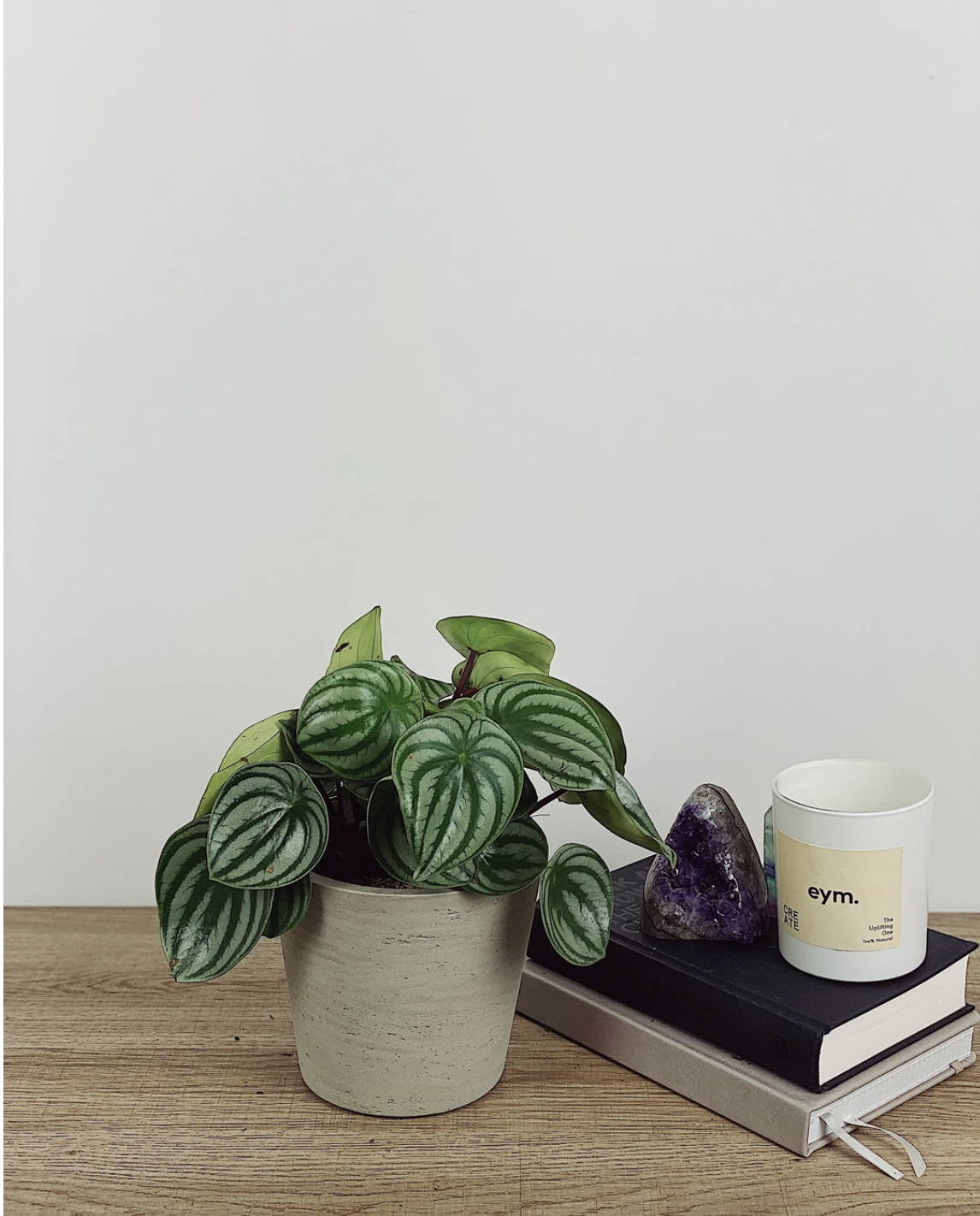 Use Bertie's stripy leaves to decorate and style your living room or bedroom. He's the ideal size for a mantelpiece, windowsill or bookcase. Pair Bertie with Eddie and Paddy for the complete green look.
Pair Bertie with the joyful candle and the self care crystal for a positive living space full of good energy and relaxing vibes.
We use a next day delivery service with one of our trusted couriers. Please allow a little bit of packing time. During COVID and busy times this can be up to 5 days.
Your personal information and data is secure with us. This is our website platform providers bread and butter. Uncompromised safety & security.
If you have received a damaged plant or within 30 days you have any trouble after following our care guidance we will offer you a replacement.
WE PLANT 10 TREES FOR EVERY ORDER
Our goal is to plant 1 million trees by 2025 to help save our environment.
Delivery
We individually package our plants with recyclable materials to ensure you receive the highest quality plants. Every plant leaves us with a Pointless Plants quality assured sticker, this means we have checked the plant and it meets our very high standards. ** Please note some plants will contain plastic around them which have been added by growers to protect their delicate leaves. We do our best not add single use plastic to our orders
​We send our plants using a next day delivery trusted courier service which will give you shipping updates and the opportunity to rearrange delivery. We do leave a delivery instruction to leave box in a safe place as a quick delivery ensures quality of our plants are maintained. This should also avoid having to reschedule missed deliveries.
​99% of the time our plants are delivered safely. Occasionally plants may arrive a little bit damaged. In this case send us a picture within 72hours and we will be more than happy to replace them.
​We ship using a next day delivery but, sometimes we need a 3-7day period to process your order. This is because demand fluctuates, we may need extra packing time or plants availability has changed at the last minute. We try our best to make delivery as quick as possible and we are working very hard on reducing our dispatch time.
​

Returns & Refunds

If you receive your plants and they are damaged from delivery, we will happily replace them. Just send us a picture within 72 hours of receiving them.

We accept returns on pots, accessories, crystals and candles. Unfortunately, we do not accept returns on our plants. If you're not 100% happy please contact us at hello@pointlessplants.com​ ​and we will find a solution you are happy with. The return shipping will be at the customers own expense.
We are here for you
Send us an email, hello@pointlessplants.com
​
Call us or WhatsApp, 07308953372
 ​
​
​
Who Are Pointless Plants?
What makes you different from other plant companies?
We don't see ourselves as a business. Our mission is to make the world a happier, better and greener place. We think delivering houseplants is a good start.
Do you really plant 10 trees for every order?
Yes, we have an API installed on our website which automatically plants trees with Ecologi when an order is made. Our slogan is 'Create a Jungle' and we are on a mission to make the world a greener place. We are always looking to do more and when we get the chance to travel, we're hoping to see our impact first hand. Sometimes we save our trees for a big project where we can help first hand. This isn't just about short term carbon offsetting. This is about long term biodiversity, rebuilding and conserving our planet!
Covid-19
What changes have you made for a safer delivery?
Delivering your plants to you is our top priority. We have implemented social distancing in our office and our team is working from home whenever possible. Our postage carrier has also implicated contact free delivery.
Plant care
Do you have any information on caring for my plant?
Yes we do! On each individual plant page we have a summary of how to look after each specific plant. We will tell you about watering, light and humidity. This will help to get you started.