Hello, I'm Drake the Dracaena fragrans but as I think we're going to be very good friends so please call me the dragon tree, corn plant or simply Drake. My lush dark green and yellow foliage is very on trend right now and I'm one of the most popular shade loving indoor plants. You can place me in a dark hallway, entrance hall or empty corner in your home office and I won't even begin to complain.
I'm found all over the 54 countries in Africa but I'm much lower maintenance than you might think. I won't fuss too much over my lighting or humidity conditions and will tolerant periods of drought if you're unable to water me. You may notice my leaf tips turn brown though - this is a hint that I'm ready for a drink.
I'm one of the hardiest houseplants on the block and will tolerate darker and draughty spaces. My tall and elegant size is perfect for anyone looking to fill any empty corner in their home or office.
Medium height (including nursery pot) 70-80cm; pot diameter 17cm. (Fits a 18-20cm pot)
Big height (including nursery pot) 90-95cm; pot diameter 21cm. (Fits a 22-26cm pot)
Drake will bloom white flowers if placed in bright enough sunlight.
A beautiful and elegant style choice, place Drake the dragon tree in your entrance hall to welcome you home everyday.

QUICK DRAGON TREE PLANT CARE

Drake is a survivor and will tolerate almost any conditions; he's one of the most resilient houseplants on the market.

I'll tolerate low and medium lighting conditions but will also grow in brighter light.

Let my soil dry out in between each watering; this'll help reduce the risk of root rot. I am very drought tolerant.

I'm happy with normal household humidity but I prefer a little moisture on my leaves from time to time.

I'm a slower grower and don't need to be fertilised more than twice a year.
A dark hallway or corner of an office.
THINGS WE ALWAYS GET ASKED

How do you take care of a dragon tree?
Taking care of a dragon tree is very easy and requires minimal effort. Drake will be happy in almost any lighting conditions provided there is no direct sunlight. He's tolerant to lower temperatures, dark spaces and cold drafts so he's a fab choice as an entrance hall or hallway plant. Allow his soil to dry out before you water him again as overly wet soil will lead to root rot.
How much light does a dragon tree need?
He doesn't need very much light to live. Luckily, due to his tolerance to low lighting, he makes a perfect plant for any British home. While he can tolerate lower lighting, you'll see the best growth spurts if he's placed in bright light.
How big do corn plants get?
The corn plant is a slower grower than many other large indoor plants and will reach a maximum height of around one metre. If you want him to stay the same size, then keep him in a lower light to reduce his growth.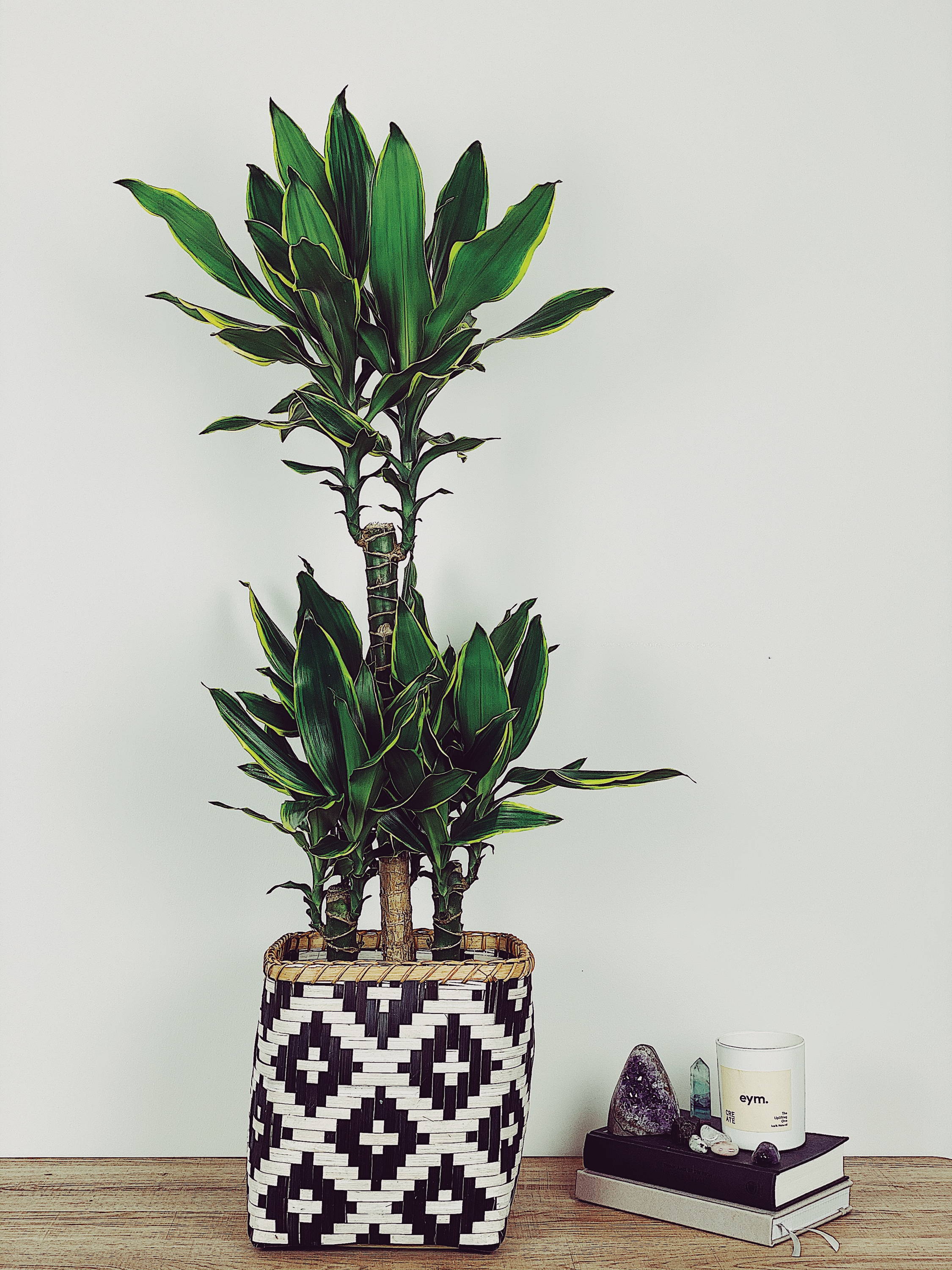 ​Style Drake's luscious leaves in a study or home office and add a dash of the tropics into your work space. Alternatively, place him in your entrance hall next to the coat stand where his long and tall foliage won't get in the way of your busy lifestyle. Use our small and compact baby palm and coffee plant to style Drake's foliage.
Pair Drake yellow foliage with the energising crystal and reed diffuser to create an entrance hall that welcomes you home everyday.
We use a next day delivery service with one of our trusted couriers. Please allow a little bit of packing time. During COVID and busy times this can be up to 5 days.
Your personal information and data is secure with us. This is our website platform providers bread and butter. Uncompromised safety & security.
If you have received a damaged plant or within 15 days you have any trouble after following our care guidance we will offer you a replacement.
WE PLANT 5 TREES FOR EVERY ORDER
Our goal is to plant 1 million trees by 2025 to help save our environment.