Hi, I'm Tara The Syngonium Podophyllum Trileaf wonder. Luckily for you my common names are less of a mouthful. I go by the arrowhead plant, arrowhead vine, goosefoot plant and African evergreen - just to name a few. Each one of my stems produces three dark green leaves which are easy to maintain and beautiful to admire. I'm quite a rare beauty and not as easy to find like some of the other Syngonium species. I like to think this makes me extra special.
I'm originally found in Mexico, Costa Rica and Ecuador with the other 33 species of Syngonium. Here we enjoy warm temperatures and high humidity which is a tropical plant's dream. We are all very adaptable to our surroundings and won't fuss over care conditions.
When it comes to finding the perfect spot for this plant you're really spoiled for choice. Its trailing vines will look glorious in a living room, bedroom or dining room. My dark green leaves are very fast growing and can be trained to climb and vine very quickly. I must warn you that I can be rather toxic if ingested so it's good to keep me on a high surface away from any curious pets.
With my fast growing vining abilities and low maintenance nature I'm an amazing find for anyone looking for something rare and easy to care for.
Medium Height (including nursery pot) 50-55cm; pot diameter 15cm.
Due to its high transpiration rate the Syngonium species have proved to increase the humidity in a room by 5%.
This gorgeous vining plant is guaranteed to produce healthy glossy foliage that will give your space that indoor jungle feel.

QUICK TRILEAF WONDER PLANT CARE

A beautiful low maintenance plant that is happy in most lighting conditions and will tolerate irregular watering.

I will grow much faster in a brighter light but I can cope in a medium lit room.

Don't worry if you forget to water me, I like my soil on the drier side.

I do love a room with high humidity. A humidifier will do the trick!

In the growth season you can fertilise me once every four weeks. Don't fertilise me in the winter.
A kitchen or dining room. The lush fast growing foliage will feel like a perfect piece of jungle.
THINGS WE ALWAYS GET ASKED

How do you care for Syngonium Podophyllum?
The trileaf wonder is a low maintenance plant. They light medium or bright light, warm temperatures and high humidity. Allow the soil to dry out a little in between watering. You will notice the foliage start to droop a little when the plant is ready for a drink. Keep the humidity levels high by having a humidifier nearby or placing her in a humid room. This low maintenance plant is happy with most lighting conditions. Avoid placing her near a south facing window as you might notice the leaves starting to burn - particularly in the summer months.
Does Syngonium need sunlight?
All plants need some natural sunlight. The Syngonium can cope with all types of lighting conditions but avoid any direct sunlight. A well lit room is preferred as she is more likely to grow faster if given more natural light.
Is Syngonium podophyllum poisonous?
Yes the Syngonium species is toxic if ingested. It can cause throat irritation and swelling. Place this gorgeous plant on a high surface out of reach from curious pets and small children.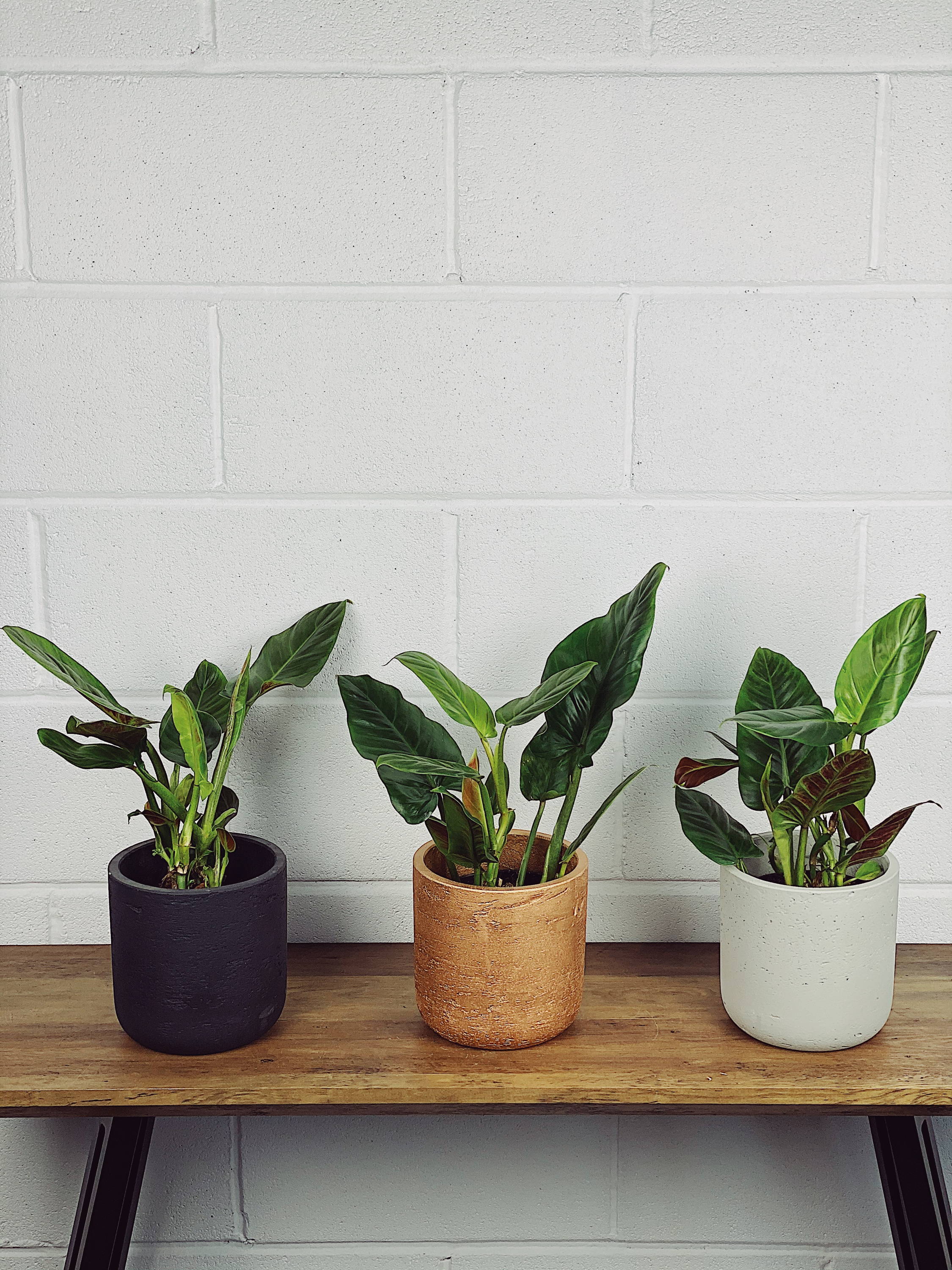 Styling vining plants couldn't be easier. Their lush foliage gives you that instant jungle vibe and once the plant is completely outgrown you can prune her leaves and propagate for more vining plants.
Use the captivate crystal to reflect the beauty of the trileaf wonder and use the joyful candle in a living room to complement this luscious plant.
We use a next day delivery service with one of our trusted couriers. Please allow a little bit of packing time. During COVID and busy times this can be up to 5 days.
Your personal information and data is secure with us. This is our website platform providers bread and butter. Uncompromised safety & security.
If you have received a damaged plant or within 15 days you have any trouble after following our care guidance we will offer you a replacement.
WE PLANT 5 TREES FOR EVERY ORDER
Our goal is to plant 1 million trees by 2025 to help save our environment.